Council prepares to plant 350 trees this winter
Published on Friday, November 22, 2019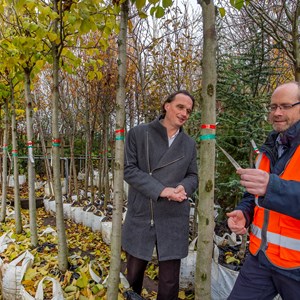 LEICESTER City Council has marked the start of National Tree Week by taking delivery of hundreds of new trees that will be planted in the city this winter.
Between now and February, a total of 350 new trees will be planted in Leicester's parks and on the city's streets – and amongst them will be a number of disease-resistant elms.
Britain's elm trees were virtually wiped out by a virulent fungal infection in the 1960s and 70s, but now – thanks to the availability of disease-resistant species –the trees are gradually being re-introduced.
In Leicester, 34 elms will have been re-introduced to the city by the end of this year's planting season, including a row of 16 new elm trees in Beaumont Park.
"Trees are of huge value to our city," said deputy city mayor for the environment Cllr Adam Clarke.
"As well as being great for our general wellbeing, they also help to reduce air pollution, support wildlife and mitigate the impact of floods and heatwaves.
"The tree strategy we launched last year sets out our commitment to increasing the number of trees in the city council's ownership and ensuring that the quality of our tree stock continues to be improved.
"This year, we're continuing to deliver on that commitment by planting more than 350 new trees in our parks and on our streets – and I'm very pleased that there will be some disease-resistant elms amongst them.
"Elms disappeared from Britain's landscape from the 1960s onwards, so it's really encouraging that the availability of these disease-resistant species means we can start to plant these magnificent trees once again."
The city council's tree strategy sets out its commitment to maintaining and replenishing its tree stock, while encouraging other landowners to plant trees too.
It also reaffirms the council's policy of planting more than one tree to replace any tree that is lost.
The city council spends around £2million every year on managing the city's trees and woodlands. Around a third of this is from income generated from contract work carried out by the council's trees and woodlands team for other clients.
This year's National Tree Week runs from tomorrow (23 November) until 1 December and marks the start of the tree planting season, which runs until February.
Photo caption: Cllr Adam Clarke, deputy city mayor for the environment, visits the city council's Beaumont Park depot as a delivery of elm trees arrives, ready for planting in Leicester this winter.
ends
Note to editors:
Extending Leicester's tree canopy coverage is one of a number of actions being carried out by the city council to tackle the climate crisis.
Experts now predict that unless drastic action is taken, we are less than 12 years away from global heating becoming irreversible, with catastrophic results. In response, Leicester City Council declared a climate emergency in February 2019.
Tree facts and figures: Tree canopy covers around 1,200 hectares in Leicester, with the city council owning around 150,000 individual trees. This includes trees in parks and open spaces (80,000), on highway verges (20,000), on housing estates (21,000), within the grounds of schools (16,000), and in community facilities and other council buildings (13,000). In addition, the council owns 107 hectares of woodland.