Events raise awareness of mouth cancer
Published on Thursday, November 7, 2019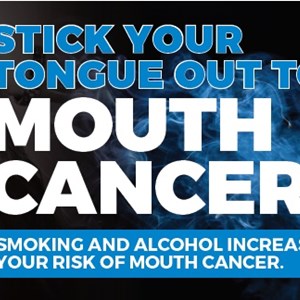 FREE events are being held in the city this month to help people learn how to check for the signs of mouth cancer.
November is Mouth Cancer Action Month, aimed at raising awareness of the disease to ensure people know what to look out for and what action they can take to reduce their chances of getting it.
Last year in the UK, more than 8,300 people were diagnosed with mouth cancer. Diagnoses have increased by 49 per cent in the last decade, and by 135 per cent compared with 20 years ago.
The signs of mouth cancer include persistent mouth pain, discoloured patches in the mouth that won't go away, long-lasting mouth ulcers, and lumps in the mouth or neck. Anyone who is concerned should visit a dentist to get checked out.
Smoking and drinking too much alcohol increase your chances of developing mouth cancer. Early detection is key, so regular trips to a dentist and learning how to check your mouth is important.
Throughout the month, the city council's oral health team will be hosting drop-in events at various locations, where you can talk to a member of the team and find out how you can check for mouth cancer.
Sessions will take place at the Y Theatre, in East Street, from 11am until 2pm on 13 November; at Belgrave Neighbourhood Centre on 15 November from 9am-1pm and at Highfields Children's Centre on 20 November from 10-11.30am.
Assistant city mayor for public health Cllr Vi Dempster said: "The key message is: if in doubt, get checked out, as early detection can make a big difference.
"Research shows that almost nine in ten (88 per cent) of British adults have now heard of mouth cancer – but only eight per cent are confident about their knowledge of the disease. That's why we want to hold these sessions during Mouth Cancer Action Month."
Simple actions that help to promote good oral health include brushing twice a day with fluoride toothpaste – once in the evenings and once at any other time. Other measures include limiting sugary food and drinks and eating a healthy, balanced diet. Stopping smoking, reducing the amount of alcohol you drink and visiting a dentist regularly also help to promote better oral health.
To find out more about Mouth Cancer Action Month, look for the hashtag #MCAM2019 on social media, or search 'mouth cancer' at leicester.gov.uk
(ends)