Jump in to courses offering swimming instructor qualifications
Published on Thursday, November 28, 2019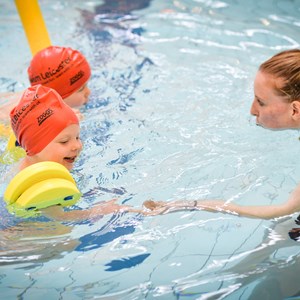 IF you've ever thought about taking the plunge and becoming a swimming instructor, then the chance to join one of the new training courses taking place in Leicester could be just what you've been waiting for.
Active Leicester – part of Leicester City Council – is running an in-house training programme giving people the chance to become fully-certified Swim England swimming instructors, with a guarantee of employment following the training within any of the seven council-run Active Leicester leisure centres.
The courses have been launched in order to recruit 28 more instructors to teach the growing number of people learning to swim in the city.
Participants can choose between one of two training courses that will take place at Aylestone Leisure Centre, running every Saturday from January 25 to March 28, or every Sunday from January 26 to March 29.
Those taking part will need to be able to attend each of the 10-weekly sessions for their course, which would normally cost £1,000.
After passing the course, instructors will be able to work a range of flexible hours at any of the city council's leisure centres, including Aylestone, Braunstone, Cossington Street, Evington, Leicester Leys, New Parks and Spence Street Sports Centre.
A similar scheme run last year saw 28 extra swimming instructors being recruited, which enabled an extra 1,000 people to take up weekly swimming lessons
More than 2,000 additional people are learning to swim in Leicester in 2019, compared with 2016, due to the investment in extra staff, additional sessions and better marketing.
Leicester deputy city mayor for culture, leisure and sport, Cllr Piara Singh Clair, said: "Swimming is a healthy activity which is suitable for all ages and abilities, as shown by the growing numbers of people learning to swim in the city.
"People can swim at seven of our Active Leicester council-run sports centres, and these additional instructors will mean we can expand that further to offer another 1,000 swimming lesson spaces.
"These training courses are a fantastic chance for people to earn a nationally-recognised qualification as a swimming instructor, to use their enthusiasm and skills to help others learn to swim."
Successful candidates will be asked to pay a £100 (refundable) deposit to secure a training place and will be expected to work across the city and across a number of sites. Hours will include weekdays, evenings and weekends.
The job includes carrying out swimming assessments, drawing up lesson plans and personal swimming instruction programmes for pupils, as well as recording their progress, attendance, abilities and personal needs.
Paid employment of £12.78 per hour is guaranteed after completion of the full training programme.
The closing date for applications is Sunday, December 8.  To apply, visit: https://jobs.leicester.gov.uk/jobs/Casual-Swimming-Teacher-Training-Opportunity-1127
For more information and an informal discussion about the training, contact Leicester City Council's aquatic development manager Jennifer Hudspith on 0116 454 4100 / 07590 444281 or by emailing Jennifer.hudspith@leicester.gov.uk

(Ends)