Leicester cook Jody is a School Meals Hero
Published on Thursday, November 7, 2019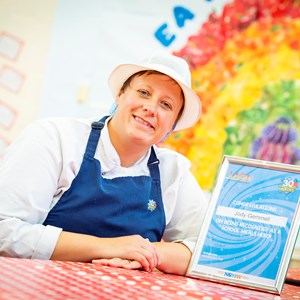 A SCHOOL cook who is determined to make mealtimes special for children has been nominated as a School Meals Hero.
Jody Gemmell, the unit catering manager at Sandfield Close Primary School in Leicester, works for the city council's school meals provider, City Catering. Jody has baked with more than 400 children, knows the name of every child in the school and has welcomed parents and grandparents into her kitchen for meals and cookery sessions.
Now Jody is one of 30 people from across the country to be named a School Meals Hero by LACA, the Lead Association for Catering in Education. Her nomination comes in the run-up to National School Meals Week, which runs from 11-15 November.
Headteacher Amanda Dhillon, who nominated Jody, said: "Jody is a true hero in our school. In the five years that she has been our cook, Jody has worked to develop the relationship between the kitchen and the school. Jody and her team are now well and truly at the heart of our school.
"Jody greets all our children by name and always has time to talk to them. Children - and staff - know that Jody will lead the whole dining room in singing Happy Birthday to them on their special day.
"Jody and her team have been key in enabling us to develop cooking skills with our children and Jody is happy to share her expert knowledge with the children. How many school cooks can say that they baked with every single child in the school (in a school with 400 children) giving every child an opportunity to make a mince pie at Christmas?"
Jane Faulks, head of service for City Catering, said: "Jody is excellent at motivating the children to eat her meals. She has worked with the school to ensure they meet all the Food for Life requirements for healthy eating and she and her team make lunchtimes really special, marking festivals and occasions and setting up fun competitions.
"The school regularly invites parents in for themed menus and on some days, this can be up to 100 extra people. Jody and her team also prepare meals for a neighbouring nursery."
Assistant city mayor for education, Cllr Elly Cutkelvin, added: "What a fantastic role model Jody is, spreading the message that school meals and lunchtimes are healthy, sociable and fun.
"On average, our City Catering team prepares around 13,000 school meals every day, providing a diverse range of menus that meet cultural, medical and lifestyle choices. We couldn't do this without such committed and hard-working staff."
All children in foundation stage, year one and year two classes are entitled to a free school meal. For older children, the price of a school meal is typically around £2.30 a day.
Children of any age whose families are on a low income or receiving certain benefits are entitled to free school meals.
To find out more about free school meals, the City Catering school meals service and menu options, visit www.leicester.gov.uk/schoolmeals
(ends)