New school kitchen officially unveiled in National School Meals Week
Published on Friday, November 15, 2019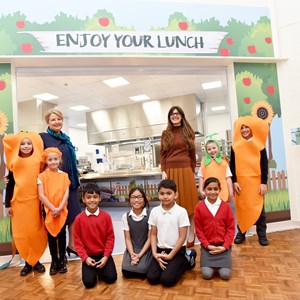 PUPILS, staff and guests at Wolsey House Primary School have been marking National School Meals Week with a roast dinner - freshly prepared in their new kitchen.
On Wednesday (13 November) staff from the city council's school meals provider City Catering served up roast chicken with roast potatoes and sage and onion stuffing, as well as a veggie alternative.
To further mark the occasion, Wolsey House also celebrated the official opening of its new kitchen, which means meals can now be made on the premises.
The kitchen at Wolsey House has been extensively refurbished by the city council, turning it from a 'dining centre' into a 'production kitchen'. Staff here now regularly prepare around 280 meals a day.
Assistant city mayor for education Cllr Elly Cutkelvin, who was one of the guests at the event, said: "We're very proud of our school meals service, which offers so many children a nutritious, delicious and good value meal every day. It's great to get together to celebrate with a roast dinner to mark National School Meals Week.
"The new kitchen at Wolsey House is a great facility which means hot meals can be made on site – and the dining area has been decorated to make it a friendly and welcoming place to spend your lunchtime.
"All children in reception, years one and two get a free school meal. Children of any age whose families are on a low income or receiving certain benefits are entitled to free school meals, which we would encourage people to take up because there's such a good choice of food on offer.
"It's been fantastic to see how much the children at Wolsey House enjoy their lunchtimes."
City Catering staff prepare around 13,000 school meals every day, served up to pupils in 50 city schools. All the meals are balanced and nutritious, with a diverse choice of menus catering for cultural, medical and lifestyle choices – and they typically cost around £2.30 a day.
Helen King, headteacher at Wolsey House Primary School, said; "We are very grateful for this valuable investment made in the school. There has been an increase in pupil numbers during the past few years and it is an advantage to cater for pupils on site."
National School Meals Week is an annual event organised by LACA – the Lead Association for Catering in Education. This year, it also tied in with National Roast Dinner Day on 13 November - an initiative from Food for Life, the Soil Association's campaign to get people together eating healthy, sustainable food.
City Catering works closely with Food for Life and offers locally-sourced free-range eggs, British organic milk and fish certified by the Marine Stewardship Council. Meat is British and is supplied to the Red Tractor farm standard, and seasonal vegetables are served whenever possible.
New-style menus are being launched during National School Meals Week, after being taste-tested by youngsters at six city primary schools. The menus feature the characters Captain Carrot and Colonel Cucumber, and will rotate on a three-weekly basis.
Meals on the new menu include traditional chicken pie, barbecue tortilla wraps, macaroni cheese and veggie burgers. Puddings – many of which now include reduced levels of sugar – include apple flapjack, rhubarb crumble with custard, and chocolate tart.
To find out more about free school meals, the City Catering school meals service and menu options, visit www.leicester.gov.uk/schoolmeals
(ends)