People invited to help shape Leicester's response to the climate emergency
Published on Tuesday, November 19, 2019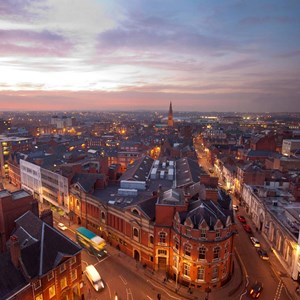 PEOPLE are being asked to help shape a citywide vision on the changes needed for Leicester to become carbon neutral and play its part in tackling the global climate emergency.
Climate change is one of the most serious threats facing the world. Experts predict that unless drastic action is taken, we are less than 12 years away from global heating becoming irreversible, with catastrophic results.
In response, Leicester City Council declared a climate emergency in February 2019.
Along with 1,180 other cities and jurisdictions around the world that have made this declaration, Leicester has signalled its commitment to taking the action needed to help prevent climate change becoming worse.
The city council is developing an ambitious vision for how Leicester will need to respond to the climate emergency and become carbon neutral.
This will be backed by a new action plan which people are being asked to help shape as part of a three-month consultation which launches today (19 Nov).
The draft vision identifies the following six key areas where changes will be needed:
At home
Our choices as consumers
Travel and transport
At work
Land use, green space and development of the city
Waste
To reduce carbon emissions at home, housing will need to be a lot more energy efficient and heating will need to move towards low carbon alternatives to gas-powered boilers. A big increase in renewable energy will be needed too. Many people will need help and financial support to make these changes.
For the city to become carbon neutral, people will need to be well-informed of the climate impacts of the goods and services they buy so that they can make informed choices and help increase customer demand for climate-friendly products. People's diets will need to have more emphasis of plant-based ingredients to help reduce the amount of meat, eggs and dairy produce we consume.
Travel and transport are a major source of carbon emissions in Leicester and more journeys will need to be made by walking, cycling and public transport. The city also needs to increase the use of ultra-low emission vehicles.
Leicester's population is expected to keep growing and this will mean new homes, employment sites and schools will need to be built. These will need to be designed to be carbon neutral and to cope with the challenges of heatwaves and more frequent intense rainfall. More tree planting will also be required.
Local employers have a big role to play in ensuring their buildings are energy efficient, promoting sustainable transport and ensuring the goods and services they produce and provide are climate-friendly. Financial support and expert advice for local businesses will need to continue.
The city will also need to reduce its waste and further increase the amount that it recycles.
Deputy city mayor Adam Clarke, who leads on environment and transportation, said: "Leicester has already almost halved its carbon footprint against 1990 levels. The city council has reduced its own carbon emissions by over 45 per cent in a decade. This is a fantastic achievement, but we know now that more needs to be done.
"Responding to the climate emergency will mean making big changes to the way we live and work.
"It affects everyone and that's why it's so important that people can help shape how the city responds and meets its responsibilities to become carbon neutral.
"We've launched a formal consultation but that will be just one element of Leicester's climate emergency conversation. We will be introducing a whole range of other ways that people can have their say on this hugely important issue over the coming weeks and months."
The consultation was launched to an invited audience of local stakeholders and campaigners at City Hall last night (18 Nov).
To take part in the online survey, which will run until Monday 10 Feb 2020, visit consulations.leicester.gov.uk
Leicester City Council also plans to launch a new online discussion forum on the climate emergency in mid-December, and to host two climate emergency assemblies – one aimed at young people – early in the new year.
For updates on forthcoming events being held as part of 'Leicester's Climate Emergency Conversation' visit www.leicester.gov.uk/climateemergency