Rescued memorials tell the stories of city's fallen heroes
Published on Wednesday, November 6, 2019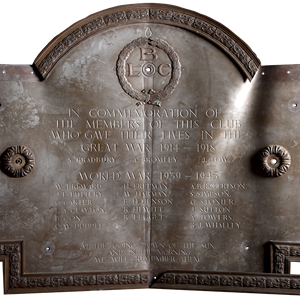 A NEW exhibition that tells the stories of Leicester's fallen heroes through a collection of war memorials opens at Newarke Houses Museum on Saturday (9 November).
Opening as part of the city's Remembrance Day events, the exhibition features memorials from the museum's own collection, as well as those that have been saved from destruction by the Leicester City, County & Rutland At Risk War Memorials Project
The exhibition highlights how memorials can provide an invaluable record of the city's casualties of war.
One memorial on display is from the now closed Church of Christ on Evington Road, and lists – with photographs – those members of the congregation who served during the second world war. Among the 41 locals remembered is Harry Hopkins, a Flight Lieutenant in the RAF whose Halifax bomber crashed in St Brides Bay in Pembroke on 14 July 1944, killing both Hopkins and two other crew members.
"These rescued memorials are an important part of our county's history," said Denis Kenyon, co-founder of the Leicester City, County & Rutland At Risk War Memorials Project.
"They're personal and include the names and, very occasionally, photographs of those lost. They were often commissioned by the family, friends or colleagues left behind, and displayed in local churches, clubs, schools and workplaces.
"When buildings such as churches and clubs close down or are converted to other use, their war memorials are often unwanted.
"This can result in memorials being taken away and lost, or even thrown on top of a skip. A further problem is that the memorials seldom have the name of their original location inscribed on them, merely saying 'Men of this Church'. This makes identifying where they've come from very difficult once they're removed from this location."
Denis and co-founder Chris Stephens have saved over 45 memorials since the project formed in 2012.
With many memorials taking the form of metal plaques, some are even prised from walls and sold as scrap – particularly when buildings are closed or derelict.
"The Belgrave Liberal Club memorial was only saved from destruction thanks to a metal merchant," said Chris.
"It had been stolen and bent in half to hide the names, then weighed-in as scrap. Thankfully the merchant handed it in to the police, who gave it to us for safekeeping."
The Belgrave memorial, plus several others rescued from around the city and county, will be on display during the exhibition.
In Memoriam: Leicester's War Memorials at Risk runs from Saturday (9 November) until 9 February 2020 at Newarke Houses Museum. Admission is free of charge.
Deputy city mayor Cllr Piara Singh Clair said: "This remarkable exhibition not only showcases the war memorials that have been rescued, but it also tells the stories of so many of our servicemen and women who lost their lives.
"I'm very pleased that this important exhibition is opening at Newarke Houses Museum as part of the city's Remembrance Day commemorations."
More information about the project is available at www.atriskwarmemorials.co.uk