Social work team shortlisted for top national award
Published on Tuesday, November 19, 2019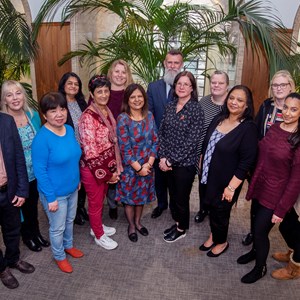 A SOCIAL work team at Leicester City Council has been shortlisted for a prestigious award in recognition of their outstanding work in supporting vulnerable adults.
The city council's Adult Social Care West Locality Team 3, which covers the areas around Saffron Lane, Eyres Monsell, Aylestone and the city centre, has been selected as a finalist for Team of the Year - Adult Services, in the annual Social Worker of the Year Awards.
A seven-person team, based at Beaumont Leys, includes qualified social workers, care management officers, and specialists in dealing with street lifestyles such as homelessness and substance use, as well as a specialist mental health worker helping older people.
The awards are organised by The Social Work Awards charity, which aims to improve public awareness and understanding of social work by showing the positive impact of social workers in the wide range of roles they undertake. 
Leicester's team is one of eight finalists in the Team of the Year - Adult Services category, and will find out if they won at a national awards ceremony which will take place in London on November 29.
Leicester deputy city mayor responsible for social care and anti-poverty, Cllr Sarah Russell, said: "Our social work teams are often among the unsung heroes working with people and families to deal with issues ranging from mental health and welfare issues, to homelessness and substance misuse.
"The West Locality Team 3 has worked incredibly hard to improve the lives of vulnerable adults, and it is very encouraging to see them being recognised in the shortlisting for this Team Of The Year award."
The Team of the Year, Adult Services award is sponsored by UNISON.
UNISON head of local government and education, Jon Richards, added: "This award celebrates a team which has been instrumental in making a positive difference to the lives of vulnerable adults in their community. All teams shortlisted champion social work values and should be very proud of their achievements."
(Ends)
Notes to editors:
The Social Worker of the Year Awards are supported by Headline Sponsor Sanctuary Personnel; Corporate Partner the British Association of Social Workers (BASW) and individual category supporters Barnardo's, UNISON, Servelec, Children's Social Work Matters and Tees Valley Local Authority Child and Adult Services. The awards are also supported by the local authorities of Lambeth, Tower Hamlets, Sunderland, North Lincolnshire, Bradford, Devon, Kent, Sunderland, Hampshire and Essex.
For more information about the awards, visit www.socialworkawards.com