Two new 20mph zones get the go-ahead
Published on Tuesday, November 19, 2019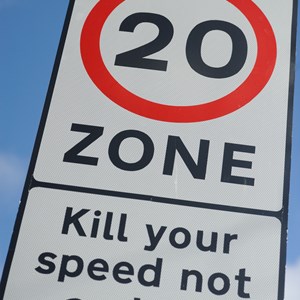 TWO communities in Leicester are set to get 20mph zones covering residential streets after local support for the road safety schemes.
The new 20mph and traffic calming schemes are due to be brought in at dozens of streets around Somerset Avenue in Beaumont Leys, and in the streets near Thurnby Lodge School.
Both schemes follow consultations with local residents to gauge their support for such road safety measures.
The Somerset Avenue scheme will cost about £65,000, with detailed designs and the necessary legal orders to be complete by early 2020, and the scheme operational in March 2020. It will reduce the speed limit to 20mph in dozens of streets bordered by Heacham Drive to the north, Anstey Lane to the south and Parker Drive to the east.
The scheme will link up to the existing 20mph zone which covers Larchmont Road, Montvale Gardens, Englewood Close, Oakwood Road, Cornwall Road and Brian Road.
Among the residents who took part in the consultation, 81 percent supported the plans for a 20mph zone, with 67 percent also backing traffic calming measures which will include speed cushions on Avebury Avenue, Somerset Avenue and Cheltenham Road.
The second scheme will include dozens of streets around Thurnby Lodge Primary School. The new scheme will include residential streets to the north of Uppingham Road, to the east of Colchester Road and bordered by Thurncourt Road to the north, extending as far east as Wintersdale Road.
In this area, 83 percent of people supported a 20mph scheme, with 66 percent backing the installation of traffic calming measures, including a range of speed cushions and humps. The scheme is expected to cost about £63,000 and is also due to be in operation in March 2020.
Funding for both schemes comes from Leicester City Council's Transport Improvement Works Programme for 2019/20. They are the latest in a rolling programme of introducing 20mph zones in residential areas where people have requested them.
More than 1,000 streets in the city are currently included in 20mph schemes.
(Ends)