Work begins on widening road crossings at Magazine
Published on Tuesday, November 5, 2019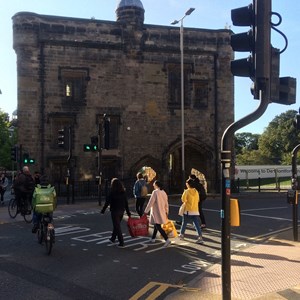 A PAIR of busy road crossings on Leicester's inner ring road are being widened to accommodate an increase in the number of cyclists and pedestrians using them.
Work began this week on the crossing points at the junction of Southgates and Newarke Street, which link the areas of the De Montfort University campus, Newarke Houses Museum and the medieval Magazine building to the city centre.
Leicester City Council originally installed the crossings 12 years ago when a section of the busy ring road was moved to enable the Magazine to be more easily accessible.
Since the completion of the cycle route and footpath along Newarke Street, the crossings have seen an increase in the number of cyclists and pedestrians, meaning the crossings need to be widened and improved.
A survey in May 2019 revealed Newarke Street is now used by about 6,500 pedestrians and nearly 600 cyclists per day.
The two crossings which are being widened span the ring road between the Magazine and the former Charlotte pub site.
Contractors Dyer and Butler are carrying out the work between Monday, November 4, and Monday, November 18. It is being done at night, between 7pm and 7am, when there is far less traffic.
The work means there are overnight lane closures on the ring road, and the crossings themselves will be closed to pedestrians and cycles, though alternative routes are in place.
The crossings are being widened by around 1.5 metres. In all the scheme will cost £150,000. Letters have been sent to neighbouring properties advising them of the timings of the works.
City Mayor Peter Soulsby said: "These crossings have become part of the main route between the DMU campus and the city centre since the creation of the cycle path and improved footpath from the inner ring road along Newarke Street.
"The widening and improvement work will ensure they continue to be safe routes across a busy section of the city's inner ring road, and continues the ongoing Connecting Leicester work to create better pedestrian and cycling links between key parts of the city."
(Ends)