Awards for green-fingered volunteers
Published on Thursday, October 31, 2019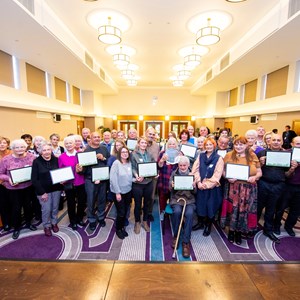 HORTICULTURAL volunteers across the city who have been helping their neighbourhoods to blossom have won range of awards for their efforts.
Independent groups from across Leicester turned out for the Leicester Environmental Volunteer Awards 2019, at City Hall, for the results of the annual Royal Horticultural Society's 'It's Your Neighbourhood' and 'Bloom' schemes.
The awards cover a range of local projects encouraging people to get involved in gardening schemes to improve their areas.
Seventeen independent horticultural projects across the city were represented, including community allotments, planters, and improvements to community gardens. Edible crops grown as part of the schemes are shared among the group and the local community. 
Nine groups received a top Level Five - 'Outstanding' award, representing the pinnacle of RHS community participation, environmental responsibility and gardening achievement.
A further four groups won Level Four - 'Thriving' status; two groups took awards at the Level Three - 'Advancing' stage, with two groups receiving Level - Two 'Improving' awards.
In addition, the 'Evington in Bloom' scheme won a Silver Gilt Award in the regional East Midlands in Bloom and scooped the Urban Community category Winner.
As part of the same submission, The Dove pub in Evington took a Silver Guilt Award for the Best Hotel/Pub Garden, Mayflower Primary School won a Gold Award for the Best School Garden Award, a Judges Award went to Jasvinder Kang for outstanding work with young people at Judgemeadow Community College, while Daxa and Subhas Patel were awarded a Gold Frank Constable Award for the Best Residential Garden both at a local Leicester level and throughout the East Midlands.
The Parks and Open Spaces Outstanding Contribution Award was presented to Michael Eaton for his dedicated volunteering to supporting the continuation of the Leicester City Horticultural show over many years.

The Volunteer Project of the Year Award went to Graceworks in Evington for their Level Five award, supporting residents in growing a wide range of edible crops including peaches and other soft fruit. They have also successfully used aquaponics, bee keeping and work to support local wildlife.
Leicester Environmental Volunteers also celebrated the dedication of five of their volunteer members who had gone the extra mile to help them to deliver projects, while Desford-based firm Neovia scooped the Corporate Award for the nature reserve improvements they helped to deliver during team away days.
Leicester deputy city mayor for culture, leisure and sport, Cllr Piara Singh Clair, presented the volunteers with their certificates at the event.
He said: "It is always encouraging to see so many people getting involved in their communities, either by making them look their best or by growing crops which can be used to help people locally.
"The wide range of projects recognised by the awards this year show a really diverse range of talents.
"In addition, dedicated Leicester Environmental Volunteers work all year round to help improve the city's parks and waterways. The combined work of all these community volunteers really do make a big difference across the city."
Information on Leicester Environmental Volunteers is available at: http://www.leicester.gov.uk/parks-volunteering
(Ends)