Council outlines plans to further improve air quality in Leicester
Published on Friday, October 25, 2019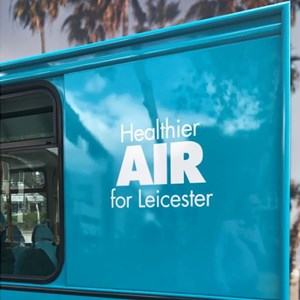 PROPOSALS to further improve air quality in Leicester and bring levels of harmful emissions to within Government guidelines have been outlined by the city council.
Air pollution in Leicester is at its lowest ever recorded levels, but the city still faces challenges to meet European and national guidelines in some areas.
In October 2018, the city council became one of 58 local authorities directed by Government to carry out feasibility studies to identify measures that would help the city achieve full compliance with nitrogen dioxide (NO2) targets in the shortest possible time. Part of this directive required the council to model the impact of a charging zone for polluting vehicles.
The latest annual figures – collected from monitoring stations at five key locations across the city in 2018 – show that Leicester is meeting all current air quality objectives except for NO2.
European and national guidelines set a limit of 40micrograms per cubic metre (µg/m3) for nitrogen dioxide (NO2) levels in the air.
The city council has delivered key actions to address pollution in the Leicester Air Quality Action Plan, including multi-million-pound investment in cycling and walking routes and purchasing electric fleet vehicles.
The average levels of NO2 have reduced by over 35 per cent since 2010, when the highest levels – of up to 80 µg/m3 – were recorded.
However, two areas – Vaughan Way, on the inner ring road, and Soar Valley Way – still exceed set limits at 45µg/m3 and 49µg/m3 respectively.
After months of detailed computer modelling and traffic surveys, the city council is now preparing to submit draft proposals to Government for the introduction of a new clean air zone focussed on the city's inner ring road. This would involve charges for any polluting taxis, buses and coaches that enter the zone. All other traffic will be unaffected.
Alongside this, the council will bid for about £6million of support to help owners replace their polluting hackney cabs or private hire cars with cleaner, greener ultra-low emission alternatives.
This would include grants potentially up to £10,000 for electric hackney cabs and £5,000 for zero emission private hire vehicles. Smaller grants of up to £1,000 would be available for private hire drivers wanting to change to a hybrid vehicle.
Although details of how the proposed clean air zone will operate won't be finalised until at least April 2020, it is likely that charges will reflect similar schemes proposed in cities including Birmingham, Leeds and Sheffield. This would mean around £8 per day for taxis and £50 per day for buses, unless they meet the required Euro 6 or better emissions levels.
The proposed measures will help bring forward Leicester compliance with NO2 limits to 2022 to meet the Government directive.
A full public consultation on the proposals is due to take place from January 2020.
The council has also announced a further £730,000 of capital investment in measures designed to further improve air quality in the city.
This includes £170,000 of match-funding for over £650,000 of investment in 28 new electric taxi charging points and 22 charging points in residential streets. A further £120,000 will be used as match-funding for a £1.1million scheme to accelerate the city's clean air zone for buses by fitting pollution filters to 168 buses.
It also includes £99,000 to upgrade the city's existing network of air quality monitoring machines, and a further £100,000 for the council's successful Eco-Schools programme.
Around £170,000 will buy four more ultra-low emission vehicles for the council's own fleet. This includes a new electric hackney cab for the council's busy passenger and transport service, which will also be offered as a demonstration vehicle for local taxi operators.
Cllr Adam Clarke, deputy city mayor for Environment and Transportation, said: "Air pollution harms people's health, places a burden on the NHS and is bad for the economy. We are determined to continue to accelerate the improvements we've seen in recent years and achieve our aim of healthier air for Leicester.
"I'm very proud of the progress that we are already making to tackle air pollution in Leicester. We're now recording the lowest levels of NO2 we've ever seen and this excellent news. But we know we still face challenges to bring the whole city within target limits and we now need to explore some fairly radical measures.
"We've been directed by Government to model a variety of different options for a clean air zone. Our surveys and studies show that a charging zone for just taxis, buses and coaches will get us over the line in terms of bringing the city within set limits for air pollution.
"That will give us a really solid foundation to build on and further improve air quality in the city.
"We know that taxi drivers will be affected and that's why our proposal includes a bid for about £6million of funding to offer generous grants to help them make the shift to cleaner, greener vehicles and electric taxis.
"By working closely with the local bus companies, we have already made huge progress in reducing pollution from the city's buses. We want to extend that work to our local taxi operators."
It is projected that the scheme to create a city centre clean air zone for buses – where all buses operating on city routes must meet the highest Euro VI standard for nitrogen dioxide (NO2) emissions – is on target be delivered next year.
There are currently 311 hackney cabs licensed by the city council. Just 14 of these currently meet EU standards.
Under a third (442) of the 1,500 private hire vehicles licensed in Leicester meet the EU standard or better.
Leicester City Council's draft proposal for a clean air zone will be submitted to the Government's Joint Air Quality Unit by 31 October. The council will than have around six months to carry out consultations, final detailed modelling and costings before a final business case is submitted in April 2020.
If given the go-ahead, the plans are likely to be implemented by Summer 2021.