Event aims to start conversation about alcohol
Published on Friday, October 25, 2019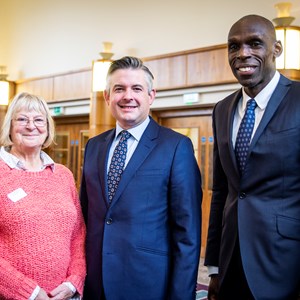 HEALTH professionals, politicians, academics and industry experts came together today (Friday 25 October) to start to shape a new alcohol strategy for Leicester.
Hosted by the city council, the event was an opportunity for delegates to discuss whether alcohol addiction has become normalised in modern society – and to consider how that impacts on efforts to tackle excessive drinking.
Speakers at the event included assistant city mayor for health Cllr Vi Dempster and Shadow Secretary of State for Health, and Leicester South MP, Jon Ashworth.
Speaking ahead of the event, Mr Ashworth said: "Growing up as the child of an alcoholic father I am all too aware of the damage drinking can cause, not only to the individual concerned but to their family and the wider community.
"It is an honour to speak at the first reducing alcohol harm summit. I truly hope that this event, and others, will lead to an effective alcohol strategy that will benefit the whole of Leicester."
Alcohol-related mortality is a significant issue in Leicester, with alcohol-related deaths for men higher than the national average.
Latest data (2017) shows an alcohol-related mortality rate for men of 90.8 per 100,000 in the city, compared to the national rate of 66.5 per 100,000.
For women, the alcohol-related mortality rate in Leicester is 28.8 per 100,000 – which is roughly in line with the average for England.
In addition, hospital admissions for alcohol-related conditions – particularly for men –have been increasing. In 2017-18, the alcohol-related admission rate for men in Leicester was 3,525 per 100,000 of the population. This compares with the national rate of 3,051 per 100,000.
Assistant city mayor for health Cllr Vi Dempster said: "In a city where both the rate of alcohol-related deaths for men and the rate of alcohol-related admissions to hospital are higher than the national average, the need to address the problems associated with excessive drinking is clear.
"While many people in Leicester are teetotal because of their faith or for cultural reasons, there is a cohort of people in the city who are not dependent on alcohol but who are drinking more than the guidelines recommend on a regular basis and storing up problems for later life.
"These are the people for whom regular drinking is normal – and these are the people whose drinking behaviour we want to change."
Today's event - 'Alcohol – a normalised addiction?' covered topics including alcohol-related health harm in Leicester, the changing pattern of alcohol use in the UK, and practical examples of routes to behaviour change and recovery.
Other speakers included Dr John Holmes from the alcohol research group at the University of Sheffield, Dr Jane Bethea, consultant in public health at Nottingham City Council, Simon Wright from Leicester's addiction treatment centre Dear Albert, Stephen Youdell, director of operations at alcohol-free venue Café Sobar, Laura Willoughby MBE of Club Soda, which helps people change their drinking habits, and Lauren Booker of national charity Alcohol Change UK.
The event was the first in a series of conversations about alcohol. Future events are expected to cover themes such as minimum unit pricing and licensing. Ideas and information gathered from all the events will help shape a new alcohol strategy for Leicester.
The new strategy is expected to be launched in spring 2020.
Ends
Photo caption: Shadow secretary of state for health, and Leicester South MP, Jon Ashworth joins assistant city mayor for health Cllr Vi Dempster and director of public health, Ivan Browne, at the event at City Hall