Join the pumpkin rescue and do your bit to prevent food waste
Published on Friday, October 25, 2019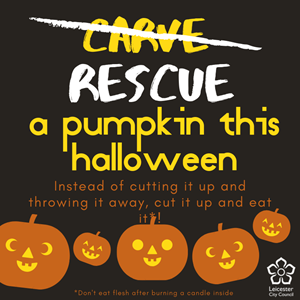 COMMUNITIES, individuals and schools are being encouraged to help prevent food waste this Halloween by eating pumpkins as well as carving them.
It's estimated up to 15 million pumpkins are binned every Halloween – but the flesh, seeds and even the stringy bits can be used to serve up some delicious treats instead. Environmental charity Hubub is challenging people to make something delicious from pumpkin flesh and share the results on social media using the hashtag #pumpkinrescue.
Across the city, Leicester has 43 allotment sites – some of which are run directly by the city council, and some by local allotment societies. Stokes Wood Allotment Society, in Stokes Drive, is taking part in Leicester and Leicestershire Pumpkin Rescue by holding a series of themed events at its site, including a Best Carved Pumpkin competition on 26 October, with a pumpkin lunch and craft fair also available on the day. There's also a Pumpkin Smash event at the allotments on 9 November, when you can bring along your carved pumpkins for composting.
Deputy city mayor Cllr Adam Clarke, who leads on the environment, said: "Food waste is an important environmental issue. Across Leicester, we have thousands of dedicated allotment-growers who are committed to reducing food waste, so it's great to see these events happening that will help to spread that message.
"We're keen to encourage people to recycle as much as possible, and we can offer discounted composting bins through getcomposting.com."
Pumpkin seeds can be roasted and then eaten as a snack; the stringy bits can be used to make a broth that is an ideal base for soups and stock. And the flesh can be used in curries, breads, pies or cakes.
Once your carved pumpkin has been around for a few days, you can't safely eat it, but it can go in a compost bin.
To find out more about #pumpkinrescue, including recipes, visit www.hubbub.org.uk
For more details about the events at Stokes Wood allotment, email carryoncomposting1@gmail.com
To find out more about allotment sites across the city, search 'allotments' at www.leicester.gov.uk
(ends)