Last chance to see exhibition showcasing hidden African treasures
Published on Wednesday, October 30, 2019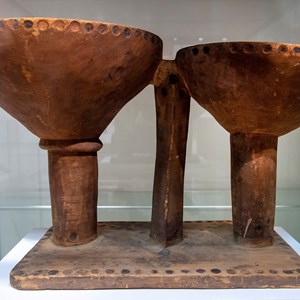 VISITORS have until the weekend to savour a ground-breaking exhibition at New Walk Museum designed to shed light on rare and unusual African artefacts seldom seen in public before.
The Knowledge of the Unseen exhibition is the result of work by Opal 22 Arts and Edutainment in cooperation with museums in Leicester, Derby and Northampton, to explore historic African artefacts, many of which haven't been seen outside the museums' stores in over 100 years.
Volunteers from the local African Caribbean community chose five objects from each of the three museums' collections on which there was little or no information.
The items – including a reptile-skin shield, 19th century animal hide shoes, and children's toy animal figurines – were then researched with the help of experts on African heritage to explore the stories of the objects and those who created them.
As well as exhibiting beautiful examples of pre-colonial African culture, the exhibition represents a ground-breaking project telling the untold stories of African heritage.
The exhibition runs at New Walk Museum and Art Gallery until Sunday, November 3, and is free to visit.
Knowledge of the Unseen is part of a programme of events taking place in venues across the city as part of Black History Month 2019, including talks, live music, exhibitions and walking tours.
Leicester deputy city mayor for culture, leisure and sport, Cllr Piara Singh Clair, said: "This exhibition is a fascinating glimpse into African history and has seen members of the African community researching these rare and mysterious items in order to bring to life the stories of who made them and the culture from which they sprang.
"Black History Month in Leicester is an opportunity to explore the story of African and Caribbean communities and the contribution they have made to the city."
Opal 22 Arts and Edutainment is an organisation whose mission is to produce thought-provoking projects and outcomes that merge history, arts and culture.
More information on the exhibition is available at www.knowledgeunseen.com. A short documentary about how the exhibition was created is available here https://bit.ly/2NptUwj
For more information on Black History Month nationally visit: blackhistorymonth.org.uk
(Ends)