Leicester gets ready to light up for Christmas
Published on Wednesday, October 16, 2019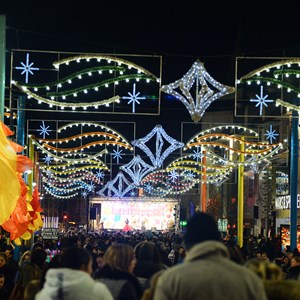 THE MAMMOTH task of installing the twinkling lights and the colourful garlands that will decorate Leicester city centre this Christmas gets under way this weekend.
On Sunday (20 October), contractors working for the city council will start putting up the decorations that cross the city's main shopping streets and installing the first of the 16,000 lamps that will light up Leicester in the run-up to Christmas.
This year – as in the previous four years – the council has spent an extra £50,000 updating the city's stock of decorations and replacing worn-out fixtures and fittings.
The extra funding means there will be a brand new look for Silver Street, High Street and Cank Street this year, with all three streets dressed with new decorative spans featuring multi-coloured LED bulbs.
New displays have also been commissioned for the Town Hall facade, while there will be festive lights in the cultural quarter for the first time, with new lamp column decorations lining the route between Curve and the Phoenix cinema.
In the new market square – which will be home to Santa and his grotto from Saturday 7 December – illuminated garlands will be strung between the square's lamp-columns, while the four trees in the square will be lit up with pea-lights.
The trees in Jubilee Square will also be lit up to create a sparkling backdrop for the Wheel of Light – the big wheel that will be back in the square for the Christmas period – and the spectacular real ice rink that will open to the public on Thursday 5 December.
At the Clock Tower, a giant Christmas tree will be carefully lowered into place and decorated with hundreds of colourful new baubles, while the city's traditional nativity scene and a tableau depicting wintry Woodland Tales will be installed in Town Hall Square.
Deputy city mayor Cllr Piara Singh Clair said: "The city council has updated its stock of festive decorations again this year, with new lights for Silver Street and Cank Street – and Christmas decorations in the cultural quarter for the first time.
"Our lighting team and contractors will be working hard to make sure that Leicester looks magical this Christmas and that everything's ready for the big switch-on on 21 November."
Contractors working for the council will be installing the decorations early in the morning and at weekends to minimise inconvenience to road users. They will start on Church Gate early in the morning on Sunday (20 October).
Decorating the city – including Town Hall Square and around 20 city centre streets – will take four weeks to complete.
Leicester's Christmas lights will be switched on as part of a packed evening of entertainment that starts at 5pm on Thursday 21 November.