New electric bikes could be your Wheels2Work
Published on Friday, October 11, 2019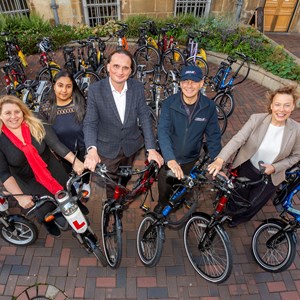 EIGHT new electric bikes are part of a fleet of cycles and mopeds available to hire from the city council for people who need help getting to work, training or education.
The Wheels2Work scheme offers low-cost loans for electric bikes, pedal bikes and electric mopeds, so that they can be hired from the city council's Bike Park for up to six months.
The idea is to help people who have a job, training or education to get to, but no way of getting there. The scheme is open to anyone aged 16 or over who lives in Leicester, or anyone who lives in the county but the majority of their commute would be in the city. Self-employed people who regularly travel are also eligible.
As well as promoting sustainable, environmentally friendly travel, the scheme is particularly aimed at people who might be on a lower income and struggle to meet transport costs. 
Pedal bikes can be hired from £15 per month, electric bikes from £45 per month and electric mopeds from £90 per month.
Participants who sign up to the scheme can apply online, and just need to show proof of their job or training. You pay a deposit and the first month's hire, with subsequent payments made on a monthly basis If you decide to leave the scheme, you can simply cancel and return the bike or moped.
Deputy city mayor Cllr Adam Clarke, who leads on environment and transportation, said: "This scheme offers alternatives to a car for people who want to travel independently and need to get to work or education. Getting around the city by bike or moped can be quicker and more convenient than using a car, too.
"We've added eight new electric bikes to our hire fleet of 30 bikes and mopeds because we know these are growing in popularity – they're an ideal solution for people who want to build up their fitness, get into cycling for the first time or return to it after a break.
"The climate emergency we are facing means we all need to think about more sustainable forms of transport. By choosing an electric or pedal-powered form of transport, you're doing your bit to help cut pollution, improve air quality and reduce congestion on our city's roads."
Cllr Sarah Russell, deputy city mayor for social care and anti-poverty, added: "Across the country, about eight million people living in working households are in poverty, according to the Joseph Rowntree Foundation. That's over half (58%) of all those living in poverty.
"This needs Government action, but we're determined to do all we can locally to make life easier for people who are struggling. We've put money into clubs that provide food and free activities for children over the holidays, we're working to ensure people get the benefits they're entitled to, and we're running schemes like this one so that people don't have to spend too much of their income on travel to work."
To find out more and apply for the scheme, visit: http://www.choosehowyoumove.co.uk/wheelstowork/
You can also arrange to visit the Bike Park, in Town Hall Square, for a free try-out of the Wheels2Work bikes. To do this, call 0116 454 2248.
(ends)
Notes to editors
Wheels2Work is one of a number of actions being carried out by the city council to tackle both the climate crisis and the impact of poverty.
Experts now predict that unless drastic action is taken, we are less than 12 years away from global heating becoming irreversible, with catastrophic results. In response, Leicester City Council declared a climate emergency in February 2019.
Local initiatives such as creating more cycle tracks in the city, improving bus services, setting up a renewable energy company, installing more solar panels on council buildings and promoting take-up of electric vehicles are already under way.
The council also plans to consult on charging employers with parking spaces and investing this income in schemes to further reduce transport emissions.
With Government support, the city council could be on track to be carbon neutral before 2030.
By providing low-cost transport for people to get to work or training, the city council is also aiming to reduce the impact of poverty on low-income individuals and families.
To further help families his summer, the council is also funding a number of healthy holiday clubs, where children will be able to enjoy good food, as well as a range of free activities.
Details of the healthy holiday clubs and other activities are available on the city council's website at families.leicester.gov.uk
(ends)