New figures show tourism is booming in city and county
Published on Wednesday, October 9, 2019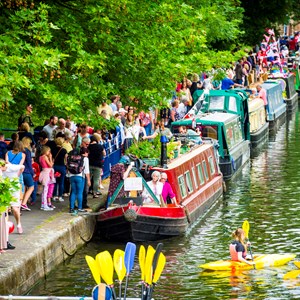 NEARLY 35million people visited Leicester and Leicestershire last year, with a million more visitors choosing to spend time in the area in 2018 than in the previous year.
According to new figures published this summer, 11.53million people visited the city of Leicester last year, compared with 10.95million in 2017 – while visitors to Leicestershire were up from 22.82million in 2017 to 23.4million in 2018.
After six years of continuous growth, tourism was worth more than £650million to the city's economy last year – with tourism benefitting the county to the tune of £1.2billion.
The positive results have been welcomed by City Mayor Peter Soulsby and county council leader Nick Rushton, as the city and county prepare to launch new plans for the development of the tourism sector later this month.
"These new figures show that Leicester is continuing to grow as a visitor destination, with record numbers of people choosing to spend time in our city," said City Mayor Peter Soulsby.
"They are very encouraging figures – and they're being backed up by support from investors, with major hotel groups showing their confidence in Leicester by planning 850 new bedrooms in the city over the next five years.
"Our new Tourism Growth Plan and the city's Tourism Action Plan, which we'll be launching on 31 October, will set out how we can build on this success and grow the sector still further."
The new figures also show that the number of tourism-related jobs is on the rise, with more than 23,000 people now employed in the sector across the city and the county – an increase of 2.9% on 2017.
In Leicester, there's been a 20% rise in the number of jobs in the tourism sector since 2012, with nearly 8,000 people now working in the industry.  In the county, more than 15,000 people are employed in the sector.
County council leader Nick Rushton said: "I'm delighted that the tourism industry across the city and county is offering visitors what they want.
"We're reaping the rewards of having top class attractions, such as Bosworth Battlefield Heritage Centre, the National Forest and Twycross Zoo, while the county council's investment in facilities such as the Beacon Hill Country Park café shows we understand what we need to do to increase our appeal.
"We won't rest on our laurels – and the Tourism Growth Plan is proof of that. Our teams are working hard to improve what we have to offer to keep people coming back, boost the local economy by sustaining local services and attract new faces."
The tourism figures for Leicester and Leicestershire are taken from the 2018 Scarborough Tourism Economic Activity Monitor (STEAM) survey.
Leicester and Leicestershire's Tourism Growth Plan and the city's Tourism Action Plan will be launched at an event during the Leicester Business Festival on 31 October.
Aimed at those involved in the management and marketing of businesses in both the leisure and business tourism sectors, the event will include presentations by Andrew Stokes, England Director at Visit Britain, and Sharon Redrobe OBE, chair of the Tourism Advisory Board.
Competing as a 21st Century Tourism Destination will take place at St Martin's House in Leicester on Thursday 31 October from 1pm to 5pm.
Places at the event can be reserved free of charge at ticketleap.com/events
Key data for STEAM 2018
 

2012

2013

2014

2015

2016

2017

2018

% incr on 2017

City Value

482.72 £m

512  £m

541 £m

576.88 £m

606.05 £m

625.44

651m

+4.1%

County Value

913 £m

969  £m

1,030 bn

1,099 £bn

1.156 £bn

1.195

£bn

1.229

£bn

 

Combined Value

1.395  £bn

1.481 £bn

1.571 £bn

1.675 £bn

1.762

£bn

1.82 £bn

1.88

£bn

+3.2%

 

 

 

 

 

 

 

 

 

City Jobs

6,597

6,913

6,982

7,252

7,451

7,612

7,911

+3.9%

County Jobs

13,007

13,572

13,734

14,189

14,581

14,821

15,165

 

Combined jobs

19,604

20,485

20,716

21,441

22,032

22,433

23,076

+2.9%

 

 

 

 

 

 

 

 

 

City Visitor Numbers

9.239m

9.475m

9.778m

10.36m

10.81m

10.95

11.53m

+5.3%

County Visitor Numbers

19.451m

19.975m

20.632m

21.82m

22.58m

22.82m

23.4m

 

Combined Visitor Numbers

28.69m

29.45 m

30.41m

32.18m

33.39m

33.77

34.93m

+3.4%
Notes to editors: The research has been undertaken by Global Tourism Solutions (UK) Ltd, which owns and operates the Scarborough Tourism Economic Activity Monitor (STEAM). This approaches the measurement of tourism at a local level from the supply side (i.e. accommodation and attractions). STEAM quantifies the local economic impact of tourism, from both stay and day visitors.