Older people reminded to claim what they're entitled to
Published on Wednesday, October 2, 2019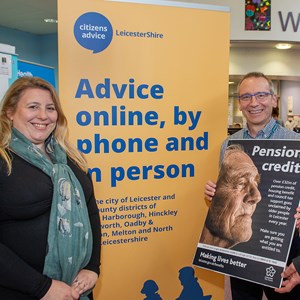 OLDER people in Leicester are being reminded to claim everything they're entitled to as part of a citywide initiative to encourage the take-up of welfare benefits.
It's estimated that more than £32million of pension credit, housing benefit and council tax support goes unclaimed by older people in Leicester every year.
Pension credit is extra money for pensioners to bring their weekly income up to a minimum amount. By claiming pension credit, you can also qualify for a range of other benefits, including housing benefit and council tax support.
Leicester City Council commissions advisors from Citizen's Advice LeicesterShire to provide benefits advice and help to people across the city. And Age UK offers tailored advice for older people, with telephone advice and home visits available.
Deputy city mayor Cllr Sarah Russell, who leads on social care and anti-poverty, said: "Our welfare support in the city has helped bring in more than £6.7million in unclaimed benefits since 2017.
"This is money that people are entitled to and that helps some of our poorest and most vulnerable citizens. This money is also of benefit to the city overall, because people spend money locally.
"Older people in particular can miss out on what they're entitled to. They might assume they're not eligible for certain benefits, or they might find it difficult to apply online.
"We know there's a huge amount of money going unclaimed and we want to make sure it's going to the people who are entitled to it and who need it to make their lives better."
Tony Donovan, executive director of Age UK Leicester Shire & Rutland said: "Pension credit and other benefits can be life-changing. It is really important anyone who is struggling financially undergoes a benefit check to see if they are eligible for any of the benefits available."
To make an appointment or get advice, call Citizen's Advice on 0300 330 1025 if you live in the city and 0300 3302 111 if you live in the county. Lines are open Monday to Friday, 9am-4.30pm.
Or call Age UK on 0800 678 1602. Calls to any of these helplines are free.
(ends)