Pupils prove they can grow their own grub
Published on Thursday, October 24, 2019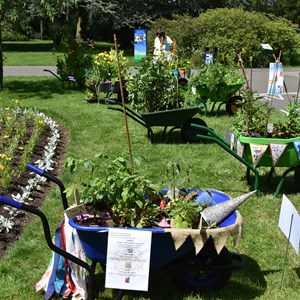 PUPILS and staff from St Barnabas C of E Primary School in Leicester are celebrating their win in the annual schools' Grow Your Own Grub competition.
The competition, organised by Leicester City Council, asks schools to produce a menu for a three-course meal featuring at least five items that they grow on-site in a 'mealbarrow' – a wheelbarrow providing growing space. Crops can include vegetables, salad leaves, fruits, herbs or cereals.
The choice of dishes could be as diverse as they liked and could include all food groups – such as fish or meat – as well as fruit and vegetables. Completed menus were returned by May and the menus were judged on presentation, nutritional value, creativity and appeal.
In June, the judges visited participating schools and assessed the mealbarrows. The combined results from the menu and mealbarrows - along with a public vote on the barrows, which took place in Evington Park in June - were used to choose the overall winning school.
St Barnabas C of E Primary School will now receive a trophy at a celebration event being held at the school on Friday 25 October. The school's winning menu featured vegetable soup, chicken salad and a strawberry and whipped cream dessert.
Headteacher Peter Davies said: "We are delighted that the hard work of our pupils and staff has paid off with this award. We've very much enjoyed coming up with a healthy and sustainable menu and then growing some of the ingredients we need. Being part of this competition was a great way to have fun, support our curriculum and learn about the journey our food makes from plot to plate." 
All participating schools received gold, silver or bronze awards for their growing areas, looking at the condition of the crop, the use of environmentally-friendly growing methods, innovation and presentation of the site.
Bronze winners were Mellor Primary School, Nurturing Roots, Scraptoft Valley Primary School, Spinney Hill Primary School and St Patrick's Catholic Voluntary Academy. Silver winners were Catherine Junior School, the Children's Hospital School, Fosse Primary School, Mayflower Primary School, Sandfield Close Primary School and West Gate School. Gold winners were Judgemeadow College, King Richard III Infant and Nursery School, Nether Hall School, Overdale Junior School, Rushey Mead Primary School, Sparkenhoe Primary School and St Barnabas C of E School.
Representatives from several schools will also be at the celebration event on Friday to collect their award certificates. As part of the event, they will take a tour of St Barnabas's winning garden and sample lunch from the winning menu, created by the city council's school meals provider City Catering.
"Local growing schemes are also a key part of the council's plans to improve environmental sustainability and tackle poverty, and we know that by introducing such schemes in schools, children take home positive messages which they convey to their families and the wider community. Well done to all the pupils and staff who have taken part in this year's competition."  
Following the success of the introduction of 'mealbarrow' growing spaces this year, schools will once again be invited to grow their own grub in a wheelbarrow and design a menu around what they decide to grow. The mealbarrows will then be displayed in one of the city's public spaces. Schools will be able to find out more and sign up for next year's competition from next month.
Participation in the Grow Your Own Grub competition can also count towards further awards schemes which schools can aim for, in which many city schools already participate. These include the Soil Association's Food for Life Awards, and the Eco-Schools Awards, both of which are supported by the city council.
(ends)