Two new November dates for vegan market
Published on Wednesday, October 30, 2019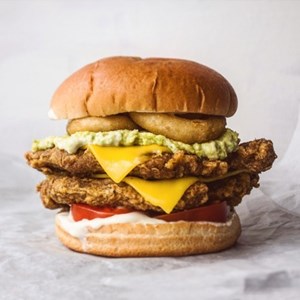 A VEGAN market is returning to Leicester following the success of its first event.
Where to Vegan is gearing up for its second foodie event in Leicester's new Market Square after a visit on 14 September saw more than 1,000 people enjoy food and products from some of the best vegan food traders in the city.
The next vegan market takes place on Saturday 9 November from 10am-5pm, followed by a Christmas-themed vegan market on 30 November to kick off the festive season.
Entry to both events is free and all ages are welcome.
The market on Saturday 9 November will see vegan delights from Leicester's best and brightest vegan traders, including fried seitan delights from Huns Vegan, cruelty-free kebabs from The Loving Kebab, and a 'game-changing plant-powered hog roast' from new traders The Hogless Roast.
There will also be plenty of sweet treats available, such as Clemie's Vegan Cakes and Spanish pastries from Churros Susanna.
Hiren Chohan, the founder of Where to Vegan, was born and raised in Leicester. He said: "I am absolutely delighted with the huge success of Leicester's newest vegan market and I can't wait to host the November events. It was fantastic to see so many vegan traders there in September and so many people - vegans and non-vegans alike - enjoying fantastic vegan food!"
Leicester Market's head of markets, Paul Edwards, said: "We had some excellent feedback from customers after the first vegan market, so I'm sure this next event will be even more successful.
"Where to Vegan has brought together a great range of local traders, who will be serving up some delicious food and drink on Saturday that will appeal to anyone who loves good food."
Traders at the first Where to Vegan market were also keen to return. Charlotte Harrison, who runs Huns Vegan with Frank Sharman, said: "We had an absolute blast at the first Where to Vegan market and we've already booked in for both November dates. We sold out by 3pm and met so many lovely people, including lots of curious meat eaters!"
Steve Taylor, who runs Taylors Artisan Free-From Bakers & Pie Makers said: "We had a fantastic time at the market and our products were very well received, especially our pies and lemon curd. We have had lots of great customer feedback from visitors on the day and we're very excited to be returning for both Leicester markets in November."
Where to Vegan is now in talks with councils in Brighton, Leeds, Manchester, Northampton, Sheffield, Bristol, Southampton, Bath and Peterborough to hold further Where to Vegan Markets, night markets and vegan-themed events.  From January 2020, Leicester's Where to Vegan markets will take place on the second Saturday of each month.
/ends