Wooden pallets wanted in preparation for city's biggest Bonfire Night celebrations
Published on Thursday, October 31, 2019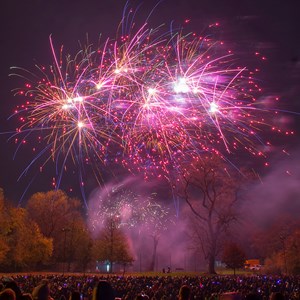 WORK is underway in Leicester's Abbey Park as it prepares to host the city's biggest, family-friendly Bonfire Night celebrations.
Organisers are due to begin building the huge bonfire – the centrepiece of the event – in Abbey Park on Friday morning, ahead of the stunning event which takes place on Saturday, November 2.
They have appealed for donations of unwanted wooden pallets, which can be used to build the towering fire. Anyone wanting to contribute should bring their pallets to Abbey Park before midday on Friday, November 1, through gates A or D, which will both be staffed.
The fireworks display and bonfire event is the biggest taking place in Leicester, featuring a programme of live entertainment, funfair and stage show aimed at all ages.
Advance tickets, which are available until 5pm on Saturday, November 2, are the best way to get discounted entry, at up to 40 per cent less than the price on the gate.
For the first time, Abbey Park Bonfire and Fireworks Display will also feature the death-defying Lords of Lightning act, involving a performer manipulating crackling, million-volt bolts of white-hot lightning with his body in a stunning live show.
The high-voltage Frequency Rider show will see a performer on a podium, controlling music frequencies via a Tesla coil – a type of electrical transformer circuit – to create a choreographed live display harnessing light and sounds accompanied by a high intensity soundtrack.
The full timetable for the event includes:
5pm                      Gates open, with last admission at 7.30pm
6pm                      Live music from Groove and the Bathtub Pings
6.35pm                 Lords of Lightning show
6.45pm                 Children's fireworks display, followed by lighting the bonfire
7pm                      Live music from Groove and the Bathtub Pings
7.40pm                 Stage entertainment from BBC Radio Leicester's Jimmy and Summaya
7.50pm                 Lords of Lightning show
8pm                      Main fireworks display
8.25pm                 Live music from Groove and the Bathtub Pings
9pm                      Event ends
Leicester deputy city mayor for culture, leisure and sport, Cllr Piara Singh Clair, said: "Preparations are now underway on site to ensure everything is in place to make this once again a fantastic, family-friendly celebration.
"People can contribute to the building of the bonfire itself by bringing along unwanted pallets to the site on Friday, which will be put to good use as part of the bonfire."
Advance tickets are now available for the event, in person from De Montfort Hall's box office and at the Visit Leicester shop on Gallowtree Gate in the city centre.
Advance tickets cost £6 for adults, £4 for under 16s and other concessions, while family tickets for up to two adults and two children cost £16. Children under four get in for free. Advance tickets will be available until 5pm on the day of the event.
Tickets on the gate cost £8 for adults, and £6 for under 16s and other concessions. No family tickets will available for sale on the gate.
There is no car parking in Abbey Park, Abbey Park Road, St Margaret's Pastures car park or the surrounding areas during the event, and visitors are encouraged to use public transport, walk or cycle to the event, using the bike parks on site.
Abbey Park is a short walk from the city centre car parks. More information on public transport is available from Travel Line on 0871 200 2233.
Further information about the event is available at www.visitleicester.info
For advice on cycling and walking route plus car shares, visit www.choosehowyoumove.co.uk
(Ends)