Council awarded £95k to pilot public on-street chargers for electric cars
Published on Thursday, September 19, 2019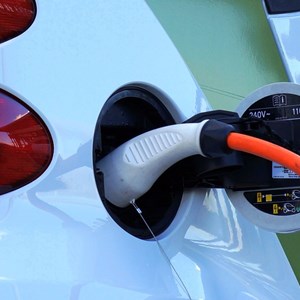 LEICESTER has been awarded almost £100,000 for a scheme to trial the use of on-street charging points in residential areas.
The city council has successfully bid for £95,340 from the Government's Office for Low Emission Vehicles and the Energy Savings Trust to help fund the installation of 22 on-street charging points in parts of Clarendon Park and the West End. The city council will also provide £32,000 of funding from cash set aside for delivering Leicester's Air Quality Action Plan.
In total, 11 streets will feature in the pilot scheme. These were determined following a citywide survey carried out last year which invited suggestions from residents who already own or who are interesting in owning an electric vehicle.
The scheme is aimed at people who don't have off-street parking at home and would find charging an electric vehicle difficult.
The new charging points will mainly be installed in existing lampposts which have been adapted to run low energy LED lights, with some installed as freestanding units.
Work to install the new charging points is due to begin early next year.
Cllr Adam Clarke, deputy city mayor for environment and transport, said: "Supporting a shift towards cleaner, greener transport is a vital part of the city's air quality action plan.
"The number of people that are choosing to drive electric cars is growing and that is something we want to actively support. Exploring the use of on-street charging points is one way we can do that.
"This pilot scheme will allow us to gauge the impact of installing standard charging points in residential locations where we know there are people keen to use them."
It is estimated that are around 700 Leicester residents who currently own a plug-in electric car.
There are currently about 140 public charging points available at car parks across the city.
This is one of a wide range of actions being carried out by the city council to tackle the climate crisis.
Experts now predict that unless drastic action is taken, we are less than 12 years away from global heating becoming irreversible, with catastrophic results. In response, Leicester City Council declared a climate emergency in February 2019.
Local initiatives such as creating more cycle tracks in the city, improving bus services, setting up a renewable energy company, installing more solar panels on council buildings and promoting take-up of electric vehicles are already under way.
The council also plans to consult on charging employers with parking spaces and investing this income in schemes to further reduce transport emissions.
With Government support, the city council could be on track to be carbon neutral before 2030.