Ellis Meadows becomes haven for local wildlife
Published on Thursday, September 5, 2019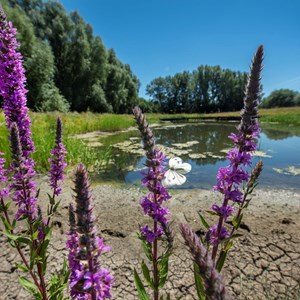 AN area of riverside land has become a haven for wildlife since being transformed into part of the city's flood defences.
Ellis Meadows, on the banks of the River Soar near to the National Space Centre, was originally part of John Ellis School, but after the school closed in the early 1990s the site became an area for general recreation, but was seldom used.
In 2015, the area was included in a major flood alleviation project by Leicester City Council and the Environment Agency, and transformed into a site to help contain flood water caused by storms and heavy rainfall, and to reduce the risk of flooding in nearby Belgrave.
The work involved environmental landscaping known as 'Green Infrastructure' which created a large and permanent areas of open water, meadow areas, shrub and tree planting, as well as retaining its mature trees along its boundary.
In addition to storing water, the area provides wildlife areas for visitors, and acts as the 'green lungs' of the city, helping to keep it cool and improving air quality.
Now, ecology studies carried out by teams of local naturalists have revealed that four years on from the work, the area has become a thriving haven for local wildlife including hundreds of pollinators, insects and plants.
The area was seeded with a mix of native neutral grassland wildflowers and the banks of the lakes were planted with native wetland species to provide wide diversity. More than 600 native trees and shrubs also provide nesting places for birds.
A rich mixture of species now thrive at the site, including dragonflies and damselflies on the open water, common amphibians such as frogs, toads and newts, along with more unusual colonies of freshwater mussel and other invertebrates from the nearby watercourse and ponds. 
They are all signs that the water quality is good and able to support growing populations of these species.
Birds including little egrets, grey herons, mute swans and mallard ducks are regulars, while swifts and swallows feed off the insects. Many pollinators such as bees, hoverflies and other insects have all been recorded at Ellis Meadows, attracted by the colourful wildflowers on display.
Leicester deputy city mayor for the environment, Cllr Adam Clarke, said: "The area has become a thriving natural habitat in a surprisingly short time, with a wide range of insects, birds and native plants now living there.
"The improvements were made as part of flood alleviation work, but we chose to include a more natural approach to create a wildlife habitat, rather than the traditional engineering approach of high walls and hard infrastructure.
"The result is that Ellis Meadows now supports a valuable variety of wildlife, and joins parks such as Watermead and Abbey Park as providing unspoiled natural habitats just a stone's throw from the city."
Wildlife at Ellis Meadows is being recorded by teams of local professional and amateur naturalists, who submit their findings to experts from NatureSpot, who monitor wildlife across Leicestershire and Rutland. Their results are checked and verified by experts before being used.
NatureSpot works closely with the city council to help record species of flora and fauna in the city and were also a major partner in the City Nature Challenge which took place at the end of April.
Ellis Meadows is now one of around 30 wild places across Leicester included on NatureSpot's website, detailing each site's history and cataloguing the species to be found there. Other sites include Aylestone Meadows, Bennion Pools, Castle Hill Country Park, Shady Lane Arboretum and numerous city parks.
Last month, Leicester City Council was presented with the Friends of the Earth's Manifesto for Leicester's Wildlife, which sets out measures for sustainability and environmental progress.
It includes planting more trees, stopping use of pesticides, making more space for wildlife, reducing light pollution and organising a biodiversity conference in the city.
Details of the city's wild places are available here: https://www.naturespot.org.uk/
(ends)