Entries open for popular art exhibition's 30th year
Published on Thursday, September 26, 2019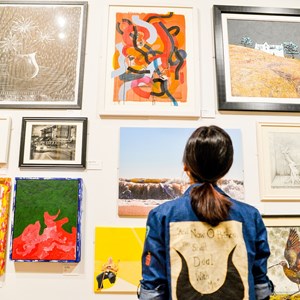 LOCAL artists are being given a chance to present their work at Leicester's New Walk Museum, as preparation for this year's Open 30 exhibition begins.
Now in its 30th year, the popular annual open exhibition is a showcase for artistic talent from across the East Midlands.
Artists must submit an online application for consideration by Sunday 20 October, with the Open 30 exhibition due to open from Saturday 14 December.
Submissions are open to artists aged 19-years and over who are living or studying in Leicester, Leicestershire, Rutland, Derbyshire, Lincolnshire, Nottinghamshire or Northamptonshire.
This year's exhibition will also include a category for young artists aged five to 18-years-old.
Entry fees for Open 30 are £10 for a single piece of work, £16 for two and £20 for three pieces. Concession rates are available and entries for young artists are free of charge.
Cllr Piara Singh Clair, deputy city mayor for culture, leisure and sport, said: "The annual Open exhibition always attracts a huge amount of interest from all kinds of artists.
"It provides a platform for emerging and established artists to showcase their work in the fabulous gallery surroundings of New Walk Museum.
"This is the 30th anniversary of the popular exhibition and we hope it continues to celebrate the rich artistic diversity of the region."
The Open 30 exhibition will be open from Saturday 14 December 2019 until Friday 24 January 2020 at New Walk Museum and Art Gallery.
Artworks will be on sale and outstanding pieces will be awarded prizes donated by local businesses and groups.
Sponsors for this year's Open exhibition include De Montfort Hall, Curve, LCB Depot, Leicester Print Workshop, Art House, Soft Touch Arts, City of Leicester Museums' trust and Two Queens.
Further information, the online application form and full terms and conditions are available at www.leicester.gov.uk/openexhibition