Extinction Rebellion activists meet with city council leaders
Published on Wednesday, September 4, 2019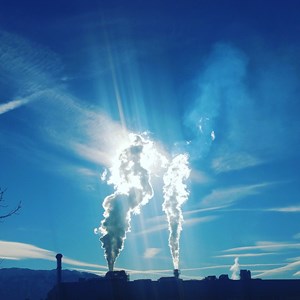 ACTIVISTS from environmental campaign group Extinction Rebellion have met with leaders of Leicester City Council in the first step towards sharing ideas and measures to tackle the climate emergency.
Campaigners met with City Mayor Peter Soulsby and deputy city mayor responsible for environment and transportation, Cllr Adam Clarke, to discuss the group's work and raising awareness of the actions needed in the city to combat climate change.
The city council is now looking at ways of continuing dialogue with the pressure group to address issues such as air quality, energy use, global warming and protection of the city's biodiversity.
Earlier this year, Leicester City Council joined other local authorities and governments worldwide in declaring a climate emergency, as well as setting out ambitious plans to exceed its own greenhouse gas reduction targets in the city.
The city is currently on track to exceed its planned 50 percent reduction in carbon emissions by 2025 – a target beyond that required by the UK government – and plans to be carbon neutral by 2030 or sooner if possible.
Leicester City Mayor Peter Soulsby said: "Activists from Extinction Rebellion have been in the headlines on many occasions in the last year, to try to get governments and individuals to wake up to the urgency of tackling climate change before it is too late.
"I was very glad to get the chance to meet with them and hear their ideas about what we can do as a city to help.
"We have already embarked on practical steps to tackle climate change and pollution in the city, including our next ambitious Sustainability Action Plan setting out citywide measures we need to take, and I very much look forward to Extinction Rebellion's input into our ongoing work."
Measures already in place in the city include:
replacement of all of Leicester's streetlights with white LEDs which slashed their carbon emissions by 58 percent
a district heating system across the city using surplus energy to heat council buildings including flats, leisure centres and schools
energy efficiency measures in council buildings, such as solar panels, which have reduced emissions across the council's estate by 41 percent
launch of council's own energy brand Fosse Energy to allows residents to switch to an affordable energy tariff with 100 percent renewable electricity
European-funded grants for energy efficiency measures at 93 city businesses through the Green Belle programme
expansion of cycling and walking infrastructure within the city and promoting the use of sustainable transport
educating the next generation through the Eco-Schools programme which has worked with thousands of pupils and teachers across the city, with 100 out of 115 city schools registered as Eco Schools.
Deputy City Mayor for the environment and transportation, Cllr Adam Clarke, added: "Latest predictions by the Intergovernmental Panel on Climate Change suggest we only have 11 years left to take decisive action over climate change, meaning we need urgent action and tougher targets.
"Extinction Rebellion have had a huge impact in raising awareness of this vitally important issue, and in keeping the pressure on for governments to take action. It makes sense to continue communicating with them and see what each of us can contribute to tackling this climate emergency."  
(Ends)