Green Fox Community Co-op wins £100,000 to develop zero-carbon schools in Leicester
Published on Friday, September 20, 2019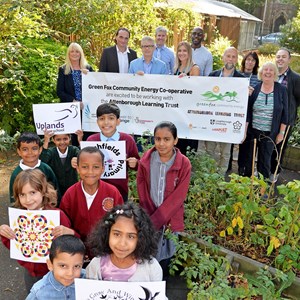 LOCAL group Green Fox Community Energy Co-operative has been awarded £100,000 by a national charity to develop a dedicated zero-carbon energy system for Leicester schools.
The local group teamed up with the Attenborough Learning Trust and Leicester City Council to make the successful bid to Power to Change's Next Generation Fund.
The scheme will explore an innovative business model which aims to provide a zero-carbon solution for schools.
Local people will be invited to invest in a range of sustainable energy solutions through a public share offer. These could include solar photo-voltaic panels, energy management and efficiency measures in buildings, and the potential to store and trade surplus energy. Investors will become members of the co-operative.
If successful, the new zero-carbon business model will be rolled out to other schools in the city, as well as the wider community energy sector.
The scheme is being led by Green Fox Community Energy Co-operative which was founded in 2012 by local supporters of community energy and Transition Leicester.
Ben Dodd, a director of Green Fox Community Energy Co-operative, said: "Green Fox was formed to facilitate community energy in Leicester and Leicestershire and to help enable local communities to play an active and democratic role in reducing carbon emissions and mitigating climate change.
"This funding is really exciting news as it allows us to draw together different organisational experience to focus on building a new approach to community energy."
The four schools involved – Green Lane Infant School, Highfields Primary, Sparkenhoe Community Primary School and Uplands Infant School – are all part of the Attenborough Learning Trust.
Jane Ridgewell, interim CEO of the Attenborough Learning Trust, said: "We are looking forward to being part of this project. It is important for our children to develop an understanding of sustainability and the need to care for our planet. The initiative will complement the Eco-Schools work already underway in our schools."
The city council, which owns and acts as landlord to the four school buildings, will provide support and advice as part of the project.
Cllr Adam Clarke, deputy city mayor for environment and transportation, said: "As a council, we are committed to cutting our emissions and achieving long-term carbon reductions to help make Leicester a cleaner and greener city.
"This ambitious project is an excellent example of community groups coming together with local organisations to respond to the climate emergency with an innovative project that could lead to big carbon reductions and other benefits in the local community. We are very proud to support it."
Next Generation is a new programme that is being funded by the independent charitable trust Power to Change to support genuinely sustainable, financially viable and innovative community energy business models.
The Leicester project is one of five community schemes across the UK to receive support in this first round of funding.
Will Walker, programme manager in charge of energy at Power to Change, said: "We believe more communities should be able to generate their own energy and reinvest the profits to benefit local people.
"Not only are we supporting these bold ideas, we will ensure that all materials and resources emerging from the programme will be made public. We want the whole community energy sector, industry and policy makers to demonstrate how and why community energy businesses should be central to the energy system transformation."
To find out more about the Next Generation Fund visit www.next-generation.org.uk
This is one of a number of actions being supported by the city council to tackle the climate crisis.
Experts now predict that unless drastic action is taken, we are less than 12 years away from global heating becoming irreversible, with catastrophic results. In response, Leicester City Council declared a climate emergency in February 2019.
Local initiatives such as creating more cycle tracks in the city, improving bus services, setting up a renewable energy company, installing more solar panels on council buildings and promoting take-up of electric vehicles are already under way.
The council also plans to consult on charging employers with parking spaces and investing this income in schemes to further reduce transport emissions.
With Government support, the city council could be on track to be carbon neutral before 2030.