Historic turret gateway no longer 'at risk' after restoration
Published on Wednesday, September 25, 2019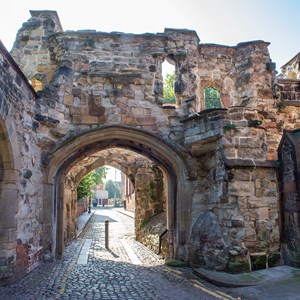 ONE of Leicester's most historic ancient monuments is no longer deemed to be at risk, following the completion of a major programme of works funded by the city council.
The Turret Gateway in Castle View was added to Historic England's 'Heritage at Risk' register in 2017, following concerns about its condition. But, after a £138,000 scheme of essential repairs and careful restoration, the gateway will no longer feature on the 'at risk' list, when Historic England's new register is published next month.
Last autumn, the 15th century gateway was shrouded in scaffolding while work got under way to replace its slate roof, repair its metal grilles and replace masonry that had eroded over time.
The city council's contractors ­- conservation specialists, Messenger - worked under the supervision of Historic England to carry out the works on the Grade I listed building.
Historic England's Louise Brennan, Regional Director Midlands, said: "The city council has made an excellent job of vital repairs at the Turret Gate. 
"In a couple of years the gate will be 600 years old, so it's great to have such an important monument for the city looking its best.
"We were happy to give advice during the work, and it's great news that it's come off Historic England's Heritage at Risk Register."
City Mayor Peter Soulsby said: "It's vital that we protect and invest in Leicester's built heritage.
"This ancient gateway would have led from the walled 'Newarke' ­­­to Leicester Castle – and, together with the more imposing Magazine Gateway, it's survived for 600 years.
"I'm pleased to say that the restoration work that's been carried out by our contractors is now complete, the building is no longer deemed to be at risk, and the works will ensure that future generations will be able to enjoy this 15th century stone gateway too."
The Turret Gateway was built in 1422-23 and was the main gateway to the inner bailey of Leicester Castle from the Newarke.
The gateway forms part of the scheduled monument that includes Leicester Castle, parts of the Newarke - a wall built around the outer castle bailey in around 1330 by Henry, Earl of Lancaster - and the Magazine Gateway.
It survives as a two-storey stone building with an arched gate passage and a portcullis chamber above. A third storey was destroyed in an election riot in 1832.