Honour for Leicester's Antigua & Barbuda football team
Published on Wednesday, September 18, 2019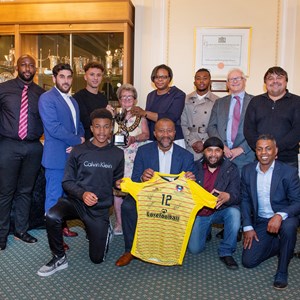 THE WINNERS of a football tournament that gave grassroots players the chance to play for their country have been honoured at an event at Leicester's Town Hall.
Representatives of the cup-winning squad that represented Antigua & Barbuda at Leicester's first Inner City World Cup were congratulated by their country's high commissioner, Karen-Mae Hill, and the Lord Mayor of Leicester, Cllr Annette Byrne.
Antigua & Barbuda triumphed in the one-day tournament in July, with their team of players – all based in Leicester and of Antiguan & Barbudan descent ­ - beating Ghana 1:0 to lift the inaugural Leicester Inner City World Cup and become the first ever Caribbean team to win the trophy.
Extending her congratulations to the team, the High Commissioner said: "I am very proud of our team and its achievements and would like to thank the city of Leicester for hosting the tournament and for bringing people together through a shared love of football."
Lord Mayor Cllr Annette Byrne said: "On behalf of the citizens of Leicester, I am delighted to welcome the High Commissioner to share in Antigua & Barbuda's success in a tournament that has been a wonderful opportunity for local people to come together through sport."
Guests at the reception included representatives of the Antiguan & Barbudan community, City Mayor Peter Soulsby, assistant city mayor Cllr Kirk Master - who led the city council's support for an Inner City World Cup in Leicester - and Leicestershire Police and Crime Commissioner Lord Willy Bach, whose office funded the tournament.
"This was a fantastic event for Leicester that celebrated diversity, community spirit and the power of sport to unite people," said Lord Bach.
"Sport not only builds bridges, but it also gives young people the motivation to succeed – which is why I was so keen to support this event.
"We're looking forward to the Inner City World Cup becoming a permanent fixture in Leicester's event calendar."
Assistant city mayor Cllr Kirk Master said: "To see so many players representing so many nations on the pitches at Victoria Park was a powerful show of togetherness and solidarity.
"For all these players, Leicester is home. But one of the reasons we all love football is that it doesn't matter where you're from, or what language you speak – football brings people together and helps unite communities, and that's what makes Leicester special.
"The Barbudan community in Leicester is believed to be the biggest in the UK, so I'm sure there were plenty of people celebrating when their team lifted the trophy in July.
"Congratulations to Antigua & Barbuda - and a big thanks to everyone who helped bring the tournament to Leicester and who made it such a success."
Although it's the first time the Inner City World Cup has been held in Leicester, it's a competition that's been bringing communities together since 1994.
Mark Abery of Love Football and the founder of the Inner City World Cup, said: "We were privileged to bring the Inner City World Cup to Leicester this summer and pleased that the tournament showcased the city as the wonderfully warm and diverse place it is."
Leicester's Inner City World Cup took place on Victoria Park on Sunday 28 July.
Sixteen teams took part in the eight-a-side tournament, which comprised a group stage and a knockout phase, with each game lasting 30 minutes.
The teams were made up of Leicester-based players representing the following 16 countries: Antigua & Barbuda, Colombia, Ecuador, England, Eritrea, Ghana, India, Ireland, Italy, Pakistan, Poland, Somalia, Sudan, Tanzania, Thailand and Turkey.
Leicester's Inner City World Cup was sponsored by the office of the Leicestershire Police and Crime Commissioner and supported by Leicester City Council.