Investment sees £400k for programme of neighbourhood improvements
Published on Thursday, September 19, 2019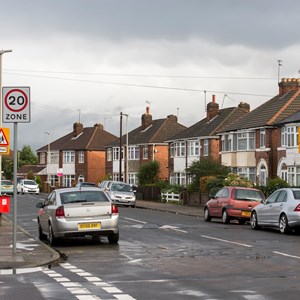 A PROGRAMME of improvements in communities across Leicester will improve neighbourhood facilities ranging from parking and traffic measures to trees and shopping areas.
Leicester City Council is investing £400,000 in a package of local environmental works across the city, based on work with ward councillors to identify local priorities for improvement.
It is part of a rolling programme of local environmental works carried out by the city council in local neighbourhoods.
The latest work will include installing new pedestrian crossing facilities, including pram and wheelchair crossings and pedestrian refuges. A number of one-way traffic systems have also been identified, as well as numerous requests for parking restrictions to tackle local parking problems.
Other work will address concerns over speeding traffic, while improvements will be made to neighbourhood centres and shopping areas. Elsewhere, work will be carried out on removing and replacing dangerous or diseased street trees.
Leicester assistant city mayor for neighbourhoods, Cllr Kirk Master, said: "These works will address issues that people have been brought up at ward level, by councillors and residents, as needing action.
"They are designed to help deal with concerns such as traffic or parking problems, as well as making improvements to well-used community spaces and facilities such as shopping areas.
"By working directly with people in these communities we can ensure the work deals with the issues which are important to them."
The £400,000 of work comprises:
£15,000 on creating pram and wheelchair crossings
£20,000 on dealing with requests for pedestrian crossings and refuges
£120,000 is being invested on one-way systems to tackle rat-running and traffic congestion at Asfordby Street, Doncaster Road and Marsden Lane/Sanvey Lane, as well as preparatory work on future schemes at Rowsley Street/Linton Street, Gwendolen Road and Wilson Street/Keythorpe Street.
£40,000 is earmarked for miscellaneous parking control measures, such as double yellow lines, with a further £40,000 to be spent on local pedestrian safety and parking issues such as installing bollards, cycle racks and railings.
£30,000 will be spent on tackling issues with speeding traffic, including a programme of traffic surveys and vehicle-activated speed signs.
£70,000 is being invested in a wide programme of improvements to shopping precincts in key areas such as Humberstone Village, Green Lane Road, Narborough Road, Melbourne Road, Evington Road and St Stephens Road.
£25,000 will be spent on replacing diseased, dangerous or damaged street trees in conservation areas.
£40,000 is being used on a range of feasibility works for citywide one-way schemes, speed-reduction programmes, residential parking and controlled pavement parking projects, as well as the potential to create a link to West Holme Street from Hinckley Road, by removing an earth mound and creating a through cycle route.
City Mayor Peter Soulsby has approved the funding for the latest programme of local environmental works, which is being financed by the city council's 2019/20 Capital Programme.
(Ends)