New recruits will help to maintain council homes
Published on Friday, September 27, 2019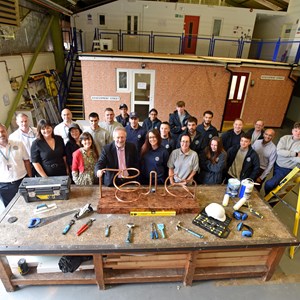 NINETEEN new housing apprentices have joined Leicester City Council to help carry out repairs on council homes.
Working in partnership with Leicester College, these craft apprentices will learn a range of trade skills, enabling them to carry out general repairs and maintenance tasks in council properties. They will learn property maintenance skills including plastering, bricklaying, electrics, plumbing and carpentry.
The apprentices include employees who have been recruited through the council's Women In Construction scheme, which gives women the chance to try out craft trades at taster days before deciding if they'd like to apply for an apprenticeship. The scheme aims to help get more women into these jobs, where they are under-represented.
Some young people who were previously in care have also applied successfully for the jobs.  
Assistant city mayor for housing Cllr Elly Cutkelvin said: "We're really pleased to be able to welcome our 19 new apprentices, including eight women, individuals from under-represented groups and some young people from a care background. It's very important we have a diverse workforce, to match the communities we serve.
"Our apprentices will learn general maintenance and repair skills before going on to specialise in areas like plumbing, plastering or carpentry.
"We have a stock of around 21,000 council houses, making us the biggest landlord in the city, so it makes perfect sense to have a pool of skilled and talented craftspeople who can repair and maintain this stock effectively.
"Running this scheme also helps us to contribute positively to the local jobs economy."
The new recruits also include three apprentice gas and heating engineers, who will focus solely on this trade, plus an HGV technician who will study at Stephenson College and learn how to keep the council's fleet of repair trucks on the road.
This year, the city council was also able to offer eight qualifying apprentices permanent positions.
To find out more about apprenticeship opportunities at the city council, visit www.leicester.gov.uk/jobs
(ends)