Photography exhibition celebrates 100 pioneering women
Published on Wednesday, September 4, 2019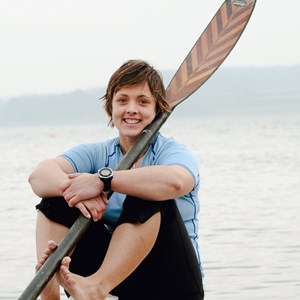 A MAJOR exhibition of photographs that celebrates some of the most influential women of the 21st century opens at Leicester's New Walk Museum & Art Gallery this month.
The brainchild of renowned portrait photographer Anita Corbin, 100 First Women Portraits is the culmination of the artist's 10-year mission to capture the portraits of 100 female trailblazers to mark the centenary of the Representation of the People Act ­– the act that paved the way for votes for women and universal suffrage.
Amongst the portraits are photographs of celebrities, ranging from 70s rocker Suzi Quatro to Olympian boxer Nicola Adams, and from darts player Deta Hedman to adventurer Sarah Outen, who traversed the globe by bike, kayak and rowing boat (pictured).
But the exhibition also celebrates unsung heroines from across the decades – the 'ordinary' women doing extraordinary jobs and achieving firsts in their fields, such as Baroness Boothroyd, the first woman to have served as Speaker of the House of Commons, Brigadier Sharon Nesmith, the first woman commander of a brigade of 5,000 front line troops, Baroness Scotland, the first woman Attorney General, Christine Duffin, the first woman governor of a Class A prison (Strangeways) and Baroness Prashar, the first chair of the Judicial Appointments Commission.
Each of the 100 images is over a metre tall and in portrait format. All are displayed as framed colour portraits, without glass or mounts.
Anita Corbin said: "From ages 18 to 102, and in fields of expertise covering everything from beatboxing to bomb detection, I wanted to create an impressive visual archive documenting female ability and achievement – and fantastic role models – in order to celebrate the impact women have had on our society over the last 100 years.
"These powerful portraits of women are intended to provoke people to look beyond the exterior image and contemplate the essence of the woman it personifies.
"I hope this exhibition will motivate, encourage and empower women and men across all ages and backgrounds and help them see that it is possible to break down barriers - whether gender, social, economic, cultural or political - to unlock their full potential."
Deputy city mayor Cllr Piara Singh Clair said: "After the success of our Alice Hawkins and Votes for Women exhibition last year, which told the stories of dozens of inspirational women in the early 20th century, this new exhibition shines a light on the pioneering women of the 21st century.
"We hope that anyone visiting this exhibition – regardless of their age, gender or background - will be inspired by these wonderful photographs and by the achievements of 100 extraordinary women."
Anita Corbin: 100 First Women Portraits opens at New Walk Museum on Saturday 14 September and continues until Sunday 27 October.
A number of events at the museum will support the exhibition, including a talk and tour from the artist herself on 8 October and a screening of Sarah Outen's inspirational film Home on 25 October.
For more information about Anita Corbin: 100 First Women Portraits – which is stopping in Leicester as part of a two-year UK tour - go to visitleicester.info or 1stwomenuk.co.uk
ends
All images: © Anita Corbin
-----------------------------------------------------------------------------------------------------------------------------------
Anita Corbin: 100 First Women Portraits
14 September – 27 October: New Walk Museum & Art Gallery

Supporting events: Call New Walk Museum on 0116 225 4900 for information

Friday 27 September
How women will be remembered over the next 100 years: The future of women's empowerment
A panel of some of Leicester's most inspirational and successful women will be discussing what the future holds for women's rights and empowerment, followed by a Q&A with the audience.
Tickets: £2.50
Doors open at 6pm for private view and bar; event begins at 7.30pm
Tuesday 8 October
Talk 1: 100 First Women Portraits: Artist's Talk and Tour: Anita Corbin – 5.30pm-6.30pm
The photographer and creative director of 100 First Women Portraits, Anita Corbin, takes you on a tour of the exhibition, revealing the stories behind meeting these inspirational Firsts and how she turned her vision of celebrating the centenary of 'Votes for Women' into a reality.
Talk 2: A Tale of Two Extremes: Dame Inga Beale – 7pm
From a rebellious teenager to becoming the first woman to head up the world's oldest insurance marketplace - Lloyd's of London, Inga will share insights into how her life was shaped and inspired by those around her. 
Tickets £3 (or £5 for both talks)
Friday 25 October
'Home' screening and Q&A: Sarah Outen MBE FRGS
British Adventurer, author and motivational speaker Sarah Outen presents her new film Home. Intimately and unflinchingly capturing Sarah's journey, Home tells a story of heart and soul, of struggle and joy, and one woman's trek towards true emotional acceptance.
Tickets £7.50
Doors 6pm for private view and bar: film starts at 7pm.