Social care work opportunities on offer at careers event
Published on Thursday, September 26, 2019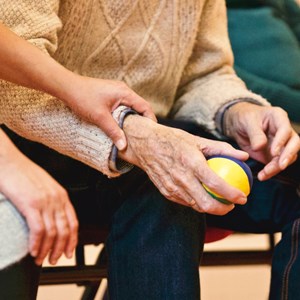 JOB seekers and students from across the city and county considering careers in social care are invited to attend a specialised careers event next month.
The Social Care Experience is open to people of all ages, from 12pm to 3pm, on Tuesday, 8 October, at the Morningside Arena, Leicester.
The event, run by Leicestershire County Council's Inspired to Care team and Leicester City Council, aims to inspire people to consider a career in adult social care.
More than 30 employers from across the city, county and Rutland, with vacancies in all areas of social care, including older people, mental health services and learning and physical disability services, will be on hand to answer questions and demonstrate the value of pursuing a career in care.
Those who attend will also get the chance to take part in workshops on dementia, autism and practical social care skills. There will also be interactive activities, demonstrations, a film and photography exhibition and opportunities to talk to people in front line care roles about their roles and career journeys.
Councillor Richard Blunt, Leicestershire County Council's cabinet member for adult social care, said: "Adult social care has a lot to offer and across Leicestershire people working in social care are making a real difference to people's lives.
"This event is an ideal opportunity to meet with experienced professionals who will provide an insight into working in the care sector.
"I would urge young people and adults to take advantage of the opportunities available. Come along and find out how you might be able to move into work."
The Social Care Experience is not just for those looking to get into social care work now. It also focusses on the future workforce.
The morning will see around 300 GCSE and further education students attending to gain an insight into what it is really like to work in care by taking part in activities and speaking to local care professionals.
Councillor Mustafa Malik, Leicester City Council's assistant city mayor for jobs, skills and communities, said: "By delivering a sector specific careers and recruitment event all in the same venue, we are able to inspire the younger generation to understand the great careers options available for them when they are ready to leave school, and also give our care providers the opportunity to advertise their current live vacancies to local residents.
"Health care is the highest forecast expansion demand sector in our region, with 20,000 more jobs anticipated by 2023.  It is essential that we raise the profile of careers with students, parents and teachers to help our employers meet their staffing requirements in the future."
For more information on the different types of social care roles, visit: www.inspiredtocare.co.uk
(Ends)