Two new 20mph schemes to come into effect in residential streets
Published on Tuesday, September 3, 2019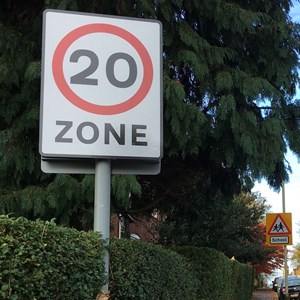 TWO new 20mph schemes are being introduced in residential streets in Leicester.
They are being introduced at Morland Avenue and Grenfell Road in Knighton, and at Heathley Park in Beaumont Leys, following consultation with local residents.
At Morland Avenue, a 20mph speed limit will be brought in covering the entire length of Morland Avenue and Grenfell Road, and costing about £4,000 to implement.
A 20mph zone at Heathley Park will cost about £5,000 to implement and covers over a dozen residential streets north of Groby Road, including Allerton Drive, Tatton Close, Duncombe Road, Stowe Close, Avington Close, Margam Close, Hyde Close, Greenwich Close, Edgeley Close, most of Heathley Park Drive, Bestwood Close, Parham Close and Bramham Close.
In both cases the 20mph schemes are funded by Leicester City Council's transport improvement works programme for 2019/20. Both are due to come into effect in December 2019.
The schemes are the latest in the city council's rolling programme of introducing 20mph limits in neighbourhoods across the city where requested to do so by residents.
(Ends)