Wartime theme to Open Streets festival
Published on Tuesday, September 24, 2019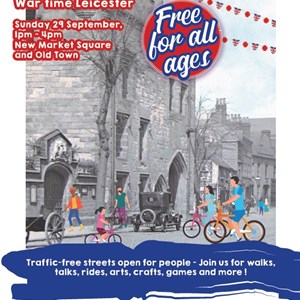 THERE'S a wartime theme to this month's Open Streets festival in the city centre.
Open Streets is a monthly celebration of the historic Greyfriars area of Leicester, when streets are closed to traffic and opened up for people to enjoy. This month's event takes place from 1-4pm on Sunday 29 September.
Themed walks, talks and bike rides, on-street entertainment, music and food will be all on offer, with a VE Day-style street party planned for St Martins and a special remembrance service taking place at Leicester Cathedral.
The King Richard III Visitor Centre will host a talk called 'Secrets of the Leicester Blitz Revealed', while the new market square will be the focal point for a wartime-themed bike ride and guided walk.
Newarke Houses Museum – home to Leicester's Home Front exhibition – will be offering children the chance to meet WWII soldiers and take part in craft activities including making your own medal.
And as well as the themed activities, there will be lots more going on – including the chance for kids to try out balance bikes, create word art, and take part in craft activities. Further guided tours of the area will offer insight into the history of Greyfriars and its recent renewal through the Townscape Heritage Initiative.
All activities are free to attend and booking is not required.
Deputy city mayor Cllr Adam Clarke, who leads on environment and transportation, said: "Open Streets events are giving us the chance to explore different periods in our city's rich history. September's Open Streets promises to have something for everyone, particularly for those who are fascinated by our wartime past.
"Open Streets is also an opportunity to enjoy our city without traffic. It's vital we do all we can to reduce vehicle emissions to help tackle the climate emergency and improve air quality, and events like this show us that this is not only possible, it's preferable, with the streets opened up for people to enjoy."
Open Streets is one of a number of actions being carried out by the city council to help reduce vehicle emissions and tackle the climate crisis.
Experts now predict that unless drastic action is taken, we are less than 12 years away from global heating becoming irreversible, with catastrophic results. In response, Leicester City Council declared a climate emergency in February 2019.
Local initiatives such as creating more cycle lanes in the city, improving bus services and promoting take-up of electric vehicles are already under way.
The council also plans to consult on charging employers with parking spaces and investing this income in schemes to further reduce transport emissions.
With Government support, the city council could be on track to be carbon neutral before 2030.
Open Streets is funded by the National Lottery Heritage Fund and is linked to the Greyfriars Townscape Heritage Initiative – more than £10m of street scene improvements funded by the city council, property owners and the National Lottery Heritage Fund.
(ends)