Council sends coronavirus information to all homes in Leicester
Published on Tuesday, April 7, 2020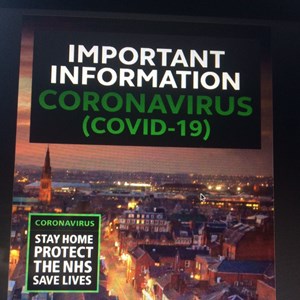 LEAFLETS will be dropping through letterboxes in Leicester this week containing useful advice and information for local people during the coronavirus outbreak.
The city council has produced the four-page leaflet to emphasise the need for everyone to stay at home – and to remind people that they can still spread the virus, even if they have no symptoms themselves.
As well as those essential health messages, the leaflet also contains useful phone numbers for organisations that can offer support, such as Age UK and the mental health charity Mind, and information about where to go with queries about council tax or housing benefits. And it also urges people to get in touch with the council, if the coronavirus crisis has put them at risk of financial hardship.
City Mayor Peter Soulsby said: "We wanted to make sure that we got important information directly into people's homes – particularly reaching those who maybe don't have internet access or use social media.
"It's really important that people know who to contact, if they need help during these difficult days, so I hope this leaflet will point people to the support they need.
"To make it easier to contact the council, we have set up a dedicated crisis support email address, which anyone can use if they're worried about having enough food, paying their bills or even if they're feeling lonely and isolated. Anyone who is worried about a vulnerable or elderly neighbour can use the email address to alert us too."
The city council's crisis support email address is C19support@leicester.gov.uk. People emailing the address will be contacted by a member of staff between 9.30am and 4pm from Monday to Friday.
The coronavirus leaflet – which cost £62,000 to print and distribute - will be delivered to more than 140,000 city homes from tomorrow (Wednesday 8 April).
City residents can also sign up to have Your Leicester – the city council's free e-newsletter - sent to their inbox. The weekly email provides up-to-date and reliable information about the coronavirus in Leicester.