Museums go online to offer people #MuseumFromHome experience
Published on Wednesday, April 29, 2020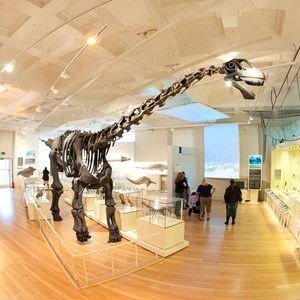 LEICESTER'S museums may be shut while the coronavirus lockdown continues, but their collections are being opened up to a new audience of online visitors.
Paintings and artworks – including Leicester's stunning collection of German Expressionist art – are all available to enjoy online, while people can visit the website to find out more about topics including the history of the local knitting industry and the origins of the Arts & Crafts movement.
Younger visitors are being catered for too, with dinosaur colouring sheets and templates for Egyptian masks amongst the downloadable resources provided – while links to the websites of partner organisations, including Phoenix and Curve, will give families access to a wide range of free creative activities.
A range of staying at home activities is available here
More digital content will be added to the website over the coming days and weeks to create an online resource that people can enjoy while the museum buildings are closed.
Leicester's museum service is one of dozens taking part in tomorrow's (30 April) #MuseumFromHome initiative – supported by the Museums Association and the BBC.
A whole day of social media content from museums, galleries and archives across the country will be hosted on the BBC Arts website and across other BBC programmes and accounts.