City school is finalist in national food award
Published on Monday, February 24, 2020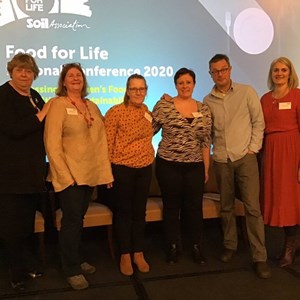 A LEICESTER primary school that works closely with the city council's catering service has been named a runner-up in a national food standards award.
Sandfield Close Primary School was one of just three schools across the country to make the shortlist for the inaugural Peter Melchett Award from the Soil Association's Food for Life programme.
The school's meals are provided by City Catering, Leicester City Council's in-house school meals service.
The award, named in memory of one of the founders of Food for Life, celebrates a school that has done outstanding work with food. Sandfield Close was recognised for its excellent dining environment, happy and sociable lunchtimes and strong community engagement. A scheme where pupils' grandmothers come into the school to help pupils with cutlery skills and cookery classes was singled out for particular praise.
Judges said: "This school is an excellent example of what can be achieved through a strong community."
Sandfield Close and City Catering are no strangers to awards for their school meals provision. Last year, Sandfield's unit catering manager Jody Gemmell was named a School Meals Hero by LACA, the Lead Association for Catering in Education.
And City Catering achieved Silver status from Food for Life last year, recognising that it supports local suppliers and sources higher-welfare, ethically-produced ingredients, with five per cent of the ingredients it uses certified as organic.
The award was handed out at a Food for Life conference in London on Thursday 13 February, where guests included Hugh Fearnley-Whittingstall and Henry Dimbleby.
Sandfield Close headteacher Amanda Dhillon said: "We are absolutely delighted to have been nominated for this award, which is real recognition for the hard work we put in to making healthy eating and sociable lunchtimes an integral part of our school life.
"Our close relationship with City Catering and Jody's team has helped us to spread the message that school meals are fun, and we've worked hard to involve the local community in our work, with great success. Our children love lunchtimes!"
Cllr Elly Cutkelvin, Leicester's city mayor for education, said: "This is a fantastic achievement for Sandfield Close and for City Catering and I congratulate them on making it to the final three. This close partnership has proved to be really successful not just in making lunchtimes fun, but also in teaching children important messages about healthy eating and cooking. We'll continue to work in partnership with schools in this way."  
School meals are free for all infant pupils and could be free for others too, if you are on a low income. To find out more about school meals, visit www.leicester.gov.uk/schoolmeals
(ends)