Less than two weeks left to help Global Kitchen reach its target
Published on Monday, February 3, 2020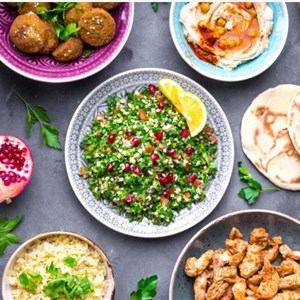 A COMMUNITY project that gets refugees and asylum seekers together to cook food from around the world has less than two weeks left to hit its fundraising target.
Global Kitchen trains volunteer chefs to share recipes from their home country with the local community. The initiative – run by local charities Soft Touch Arts and ArtReach – is one of the latest to use the city mayor's crowdfunding initiative, CrowdFund Leicester, to raise funds.
Global Kitchen hopes to raise nearly £8,000 to keep running its training sessions and community meals, as well as developing a Global Kitchen cookbook, containing recipes, stories and images from across the world. It has currently raised about £4,800, including a contribution of £1,000 from the city mayor's community engagement fund.
The project has already helped people like Linton Magume, who fled Zimbabwe, aged 17, and developed his love of cooking while he was seeking asylum. He now works as a head chef as well as continuing to lead sessions at the Global Kitchen.
Dishes created by project volunteers include Naveed's qabli palu – a traditional Afghan rice dish - Johan's mabel, a Syrian yogurt-based dip, and Nisha's batada vada, a traditional Indian street food.
City mayor Peter Soulsby said: "This is an innovative project that highlights one of our city's great strengths – its diversity. We pride ourselves on being a welcoming city to people of all backgrounds and the result is initiatives like Global Kitchen, that bring people together in a love of food as well as providing skills and volunteering opportunities for the local community.
"I was very pleased to back this project and I look forward to it reaching its target."
Nicola Middler, senior producer at ArtReach, said: "It's been amazing to see Global Kitchen develop from an idea, grow into cookery demonstrations and then flourish into a real opportunity for those from the refugee and asylum-seeking community. "
Christina Wigmore, director at Soft Touch, added: "Global Kitchen is such a brilliant and simple project that brings people together through food.  Each time we run one of the cooking demonstrations, everyone from the chefs to those that watch the demonstrations and eat the food leaves with a warm glow and a full stomach of amazing food.
To back the project, visit https://www.spacehive.com/global-kitchen before the closing date of Wednesday 12 February.
To find out more about the city mayor's CrowdFund Leicester project, visit www.spacehive.com
(ends)