Library shows off its £180,000 facelift
Published on Friday, February 7, 2020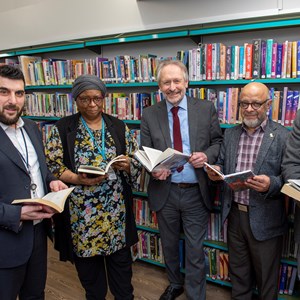 RESIDENTS, community leaders and library users have gathered together to celebrate £180,000 worth of improvements to their local library.
They were joined by city mayor Peter Soulsby and assistant city mayor Cllr Kirk Master, who leads on neighbourhood services, to celebrate the refurbishment work that has been carried out at Highfields Library, in Melbourne Road.
During a 12-week programme of works which began last autumn, the public library space was fully refurbished to provide a modern, flexible library space.  The improved layout includes a new children's area, an improved study space and open areas to meet and read.  Accessible toilets were installed, and charging points were added for people who want to bring their own laptops into the library.
A designated community room has also been created, which local people can hire for events, meetings or activities, and lighting and ventilation has been improved to help reduce the building's carbon impact.
The library has also got a range of free-to-use, public-access computers and free public wifi access. It hosts a range of services and activities, including popular Toddler Time story sessions for under-fives, and study support for schoolchildren.
Assistant city mayor for neighbourhood services Cllr Kirk Master said: "I used this library as a child. It's fantastic to see it looking so good. It's one of our busiest neighbourhood libraries, with more than 200,000 visitors a year, so I'm really pleased we've been able to invest in it this way."
The investment is part of the city council's Transforming Neighbourhood Services programme which consulted with local people to find ways of making better use of community buildings.  Under the scheme, some buildings have been invested in to modernise and improve them, enabling more services to be delivered together in the same place and increasing the usage of buildings.
For more information on libraries in Leicester, visit www.leicester.gov.uk/libraries
(ends)