City infants' school is outstanding
Published on Friday, January 17, 2020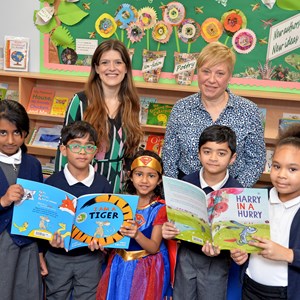 A CITY infants' school has been rated as outstanding by Ofsted.
Catherine Infant School, in Ulverscroft Road, Belgrave, was awarded the schools inspectors' highest rating following its most recent inspection, in November 2019. It was previously rated as good.
In a glowing report, inspectors described Catherine Infant School as 'an exceptional school, where pupils are keen to learn.' The majority of children at the school speak English as an additional language, but this does not hold them back – with pupils achieving extremely well in reading, writing and maths by the end of Year 2.
Inspectors noted that pupils were happy and excited to come to school, and were rightly proud of their work. Staff morale is high, with lots of support for teachers from governors and senior leaders, and there are strong links with parents and the local community.
Pupils get the chance to take part in a wide range of activities and join lots of clubs, with the teaching of reading at the heart of the school. Inspectors said pupils 'develop a love of books because staff read stories to them every day.'
Children who have special educational needs and disabilities also achieve very well at the school, thanks to the 'skilled and experienced special needs co-ordinator' who ensures their needs are quickly identified.
Headteacher Jill Harrold said: "We're delighted with this report, which recognises the hard work and dedication of all our staff, governors, parents and of course the children. It's a real pleasure to work in this great community.
"We'll continue to work hard to make sure our school is a warm and welcoming place for everyone, where pupils are happy to come to play, learn and achieve."
Leicester City Council's assistant city mayor, Cllr Elly Cutkelvin, added: "This is a fantastic achievement for everyone at Catherine Infant School and I'd like to offer my congratulations to everyone associated with the school."
The full report is available on the Ofsted website.
(ends)