Free ideas to help keep young ones happy this half-term
Published on Friday, May 22, 2020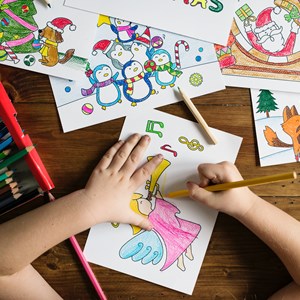 IT'S going to be challenging to make half-term feel like a break while Leicester's in lockdown, but there are still plenty of things that families can do to help them enjoy their week off together – while staying safe.
With warm weather forecast for the Bank Holiday, families will be heading for the city's parks and open spaces to enjoy a picnic, a bike ride or a kick-about in the fresh air.
But half-term could provide an opportunity to explore further afield, with people getting on their bikes to discover parts of the city they're not familiar with – or venturing into the county to enjoy the great outdoors.
The Choose How You Move website is full of ideas for family walks, from a gentle stroll from Belgrave Library to the nature park at Ellis Meadows, to a two-hour hike at Beacon Hill.
Find a route to suit you here – but when planning your day out, please bear in mind that cafes and public toilets are closed.
Cycling maps of Leicester and Leicestershire are also available and can be downloaded here
Should the weather take a turn for the worse, there are lots of ideas for indoor activities available online.
Leicester's libraries may be closed, but you can still download eBooks, e-Audio books and eMagazines – while younger children can enjoy online storytelling sessions with library staff on the council's YouTube channel.
The city's museums have gone online too, with lots of ideas for stay-at-home activities and links to some extraordinary museums around the world.
The Natural History Museum in London, for example, shows youngsters how to make their own working volcano – while the British Museum has come up with a 7th century BC travel blog to the Assyrian capital city of Nineveh, for anyone who's missing their half-term trip abroad.
Closer to home, local graffiti experts Graffwerk have provided works by graffiti artists to colour in, while Phoenix and Curve have come up with some great creative activities that children will enjoy.
More ideas for things to do in half-term, including 50 things to do before you're 11-and-three-quarters, tips for young DJs in lockdown and free online yoga classes, are available here