Designs to improve Leicester Museum and Art Gallery to be discussed
Published on Thursday, April 22, 2021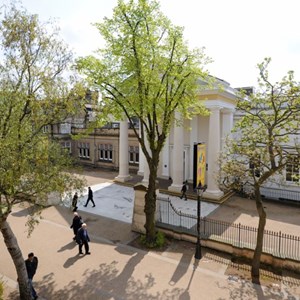 PROPOSALS have been revealed to update and remodel the interior of Leicester Museum and Art Gallery on New Walk.
The building – formerly known as New Walk Museum and Art Gallery – opened back in 1849 as one of the UK's first public museums, and remains one of the city's most popular free attractions, housing galleries dedicated to Ancient Egypt, dinosaurs, natural history, the Victorian art gallery, arts and crafts, the Attenborough Collection of Picasso Ceramics and an internationally renowned collection of German Expressionist works among others.
However, some areas of the museum need updating, while other parts are underused. The current location of the café within the museum mean it cannot open to customers when the rest of the museum is closed.
A report which is being presented to a meeting of Leicester City Council's heritage, culture leisure and sport scrutiny committee on April 28, sets out goals for how the museum can be developed to better suit the needs of visitors.
The proposals would see a new café space with a conservatory and outside seating area at the front of the museum, incorporating a new entrance from New Walk. The existing café space would then be used to house a new gallery area.
An entrance and exit would be created to a new Leicester Stories community gallery, designed to reflect the city's recent history, culture and communities, while elsewhere a number of stairs, lifts and ramps throughout would be upgraded to improve access and ease the flow of visitors around the galleries.
On the first floor, improvements would mainly focus on upgrading staff offices and toilets which are to be relocated to create the new gallery spaces, repairing roof windows, and bringing lifts and stairs up to modern standards.
Leicester Museum and Art Gallery normally attracts around 200,000 visitors each year – in 2018 it attracted over 232,000 visitors, making it the second most popular free attraction in the East Midlands.
Reconfiguring the layout and upgrading the gallery spaces will help it reach a new target of accommodating up to 300,000 visitors each year.
Leicester Museums and Galleries is an Arts Council England National Portfolio Organisation.
Leicester City Mayor Peter Soulsby said: "Leicester Museum and Art Gallery is one of the city's most popular attractions, and houses exhibitions and activities aimed at all ages.
"However, the current layout does limit how we can use it – some parts are underused, others need modernising, and in the case of the café area, could work far better if moved to a different part of the museum.
"Incorporating the café and the new entrance from New Walk would mean the café could open beyond the museum's opening hours, and the space it current occupies would revert to being more gallery space.
"We also want to ensure we are doing our best in showcasing our natural history and art collections, and also helping to tell the story of the city through a new community gallery.
"These proposals are at an early stage, but reflect our ambitions for the future of the museum, to maximise the number of visitors we can attract, and ensure the spaces withing the building are put to their best use."
(Ends)