LEICESTER City Council has become the first East Midlands council to sign up to a declaration on healthy weight.
The declaration - a national initiative organised by the charity Food Active – demonstrates the council's commitment to help everyone in Leicester to lead a healthy lifestyle. It means the city council will work closely with other organisations to help improve people's access to healthier lifestyle choices.
By signing up to the declaration, the city council pledges to:
Join up with other council initiatives, such as Leicester's Food Plan, Active Leicester and food growing schemes to help consolidate the help that the council can offer;
Work closely with others, such as GPs, community organisations, social care staff and education professionals to make referral pathways easier and simpler for people who need help with their weight;
Support projects in schools and communities that help people to cook and grow healthy food on a budget;
Harness the power of all departments in the council and beyond with the collective aim of reducing levels of unhealthy weight, through small changes with big impact.
The declaration was launched at City Hall on Monday 5 December, when Councillor Vi Dempster, city mayor Peter Soulsby, the council's chief operating officer, Alison Greenhill, and public health director Prof Ivan Browne met with representatives from Food Active to place the council's commitment in writing.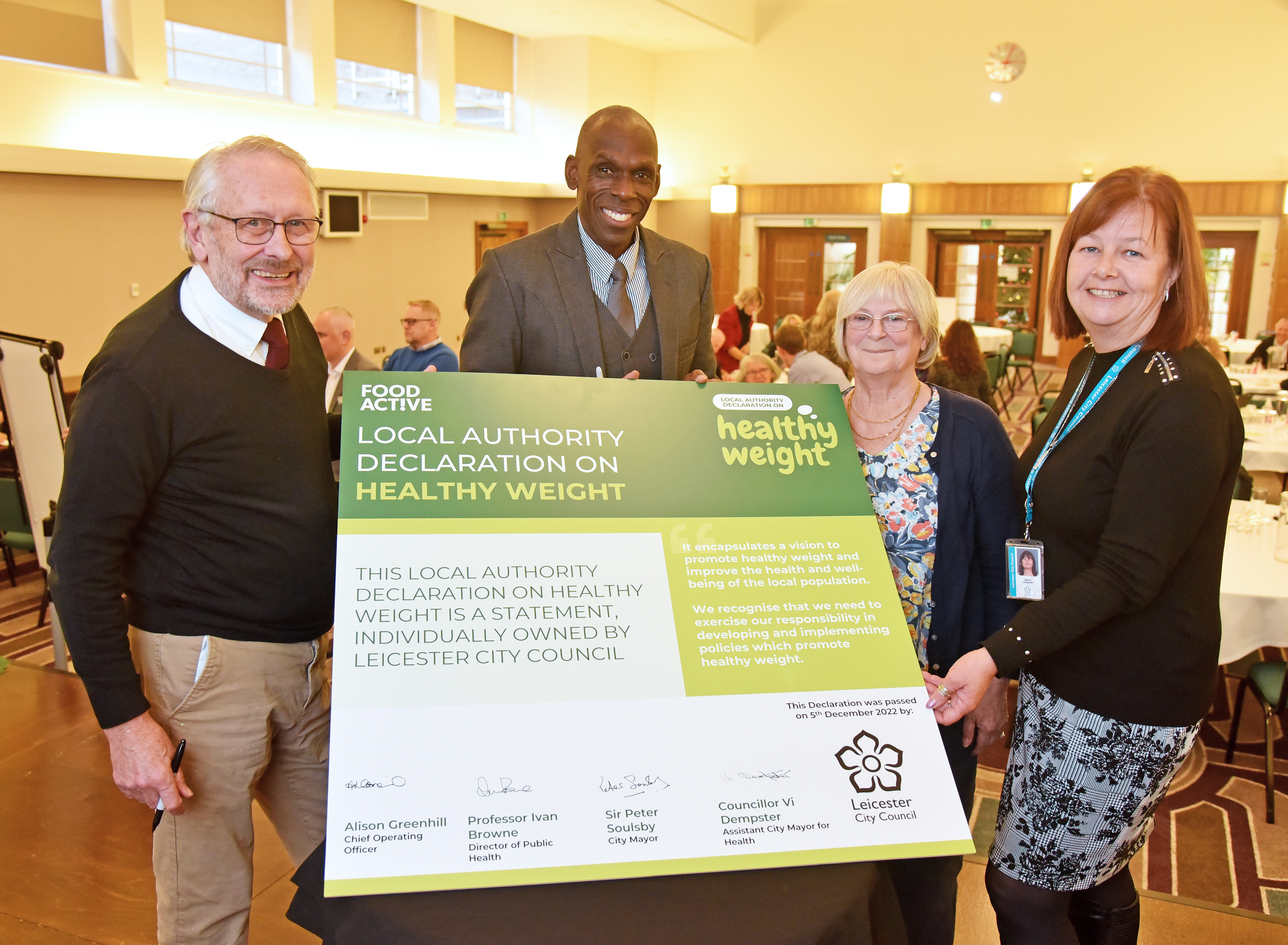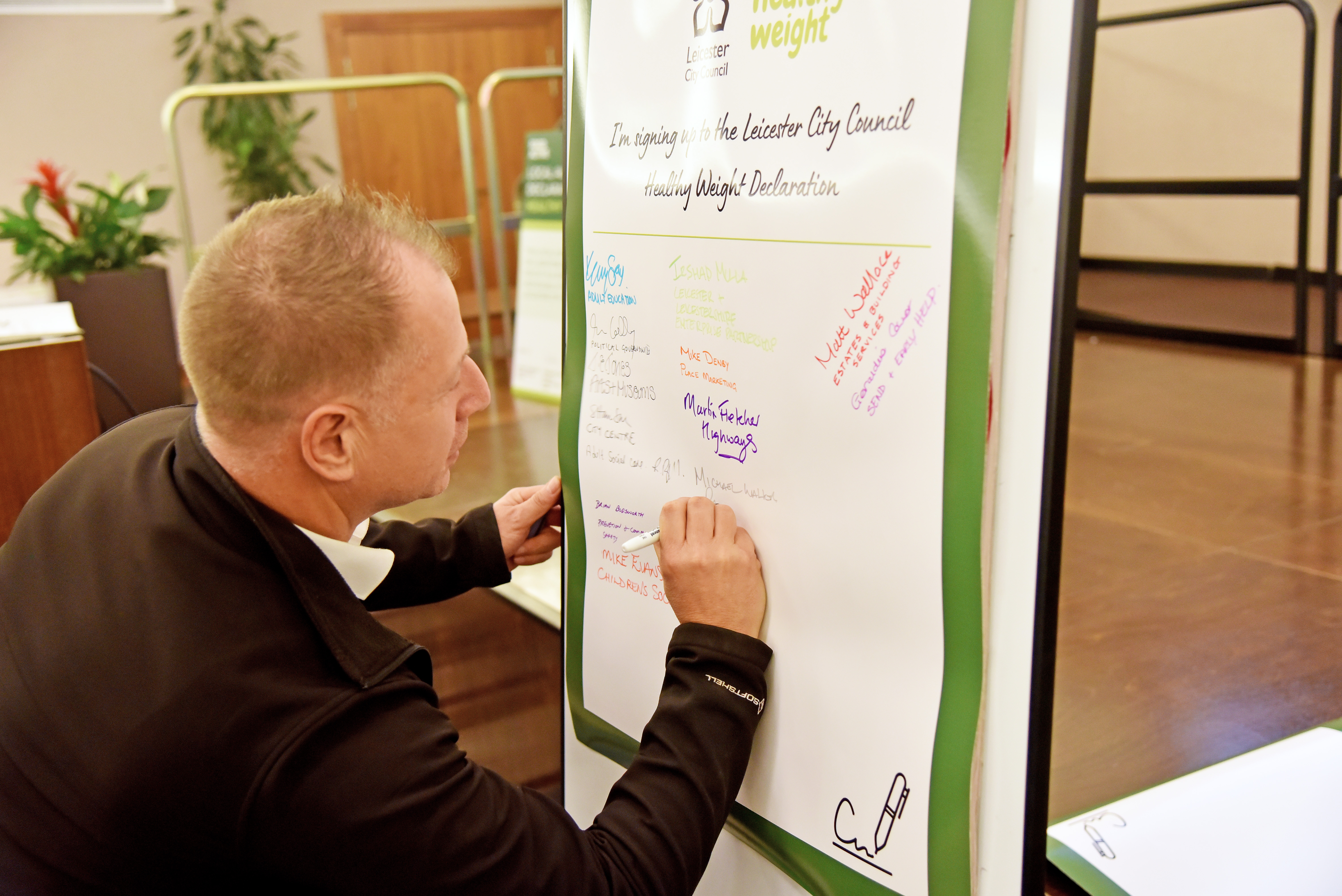 Assistant city mayor for public health, Cllr Vi Dempster, said: "We know that excess weight is a national problem, and here in Leicester a worrying 41% of Year 6 children are overweight or obese by the time they start secondary school, compared to 38% nationally.
"We are absolutely committed to reducing excess weight, which is why we're the first council in the East Midlands to sign up to this declaration. It means we will work with all departments in the council to ensure healthy weight is included in all policies.
"Our work will include improving access to weight management services, training key staff groups in physical activity and nutritional messages, and supporting schools and nurseries to adopt healthy eating and physical activity programmes such as the Daily Mile and Eat Better, Start Better.
"Times are tough at the moment. The COVID-19 pandemic and current cost of living crisis are a reminder of the influential role that the environment we live in plays on our health. As we see food and energy costs rising, there is likely to be a further negative impact on healthy weight, so it's important we do all we can to prevent that."
Leicester's director of public health, Prof Ivan Browne, added: "Our weight is influenced by many things beyond food consumption, including genetics, our family life, mental health and medical conditions. It can also be affected by access to healthy food and opportunities to be active, as well as increases in sedentary time.
"That's why it's important that we adopt the approach in this declaration, whereby we recognise that healthy living is influenced by a huge number of systemic factors, many of which may be out of individuals' immediate control. We need to stop simply blaming individuals for their excess weight and look to the whole system of factors that may be having an impact on this.
"Councils are ideally placed to adopt this approach, because we have responsibility for public health, leisure facilities, active travel and so many more services that affect people's physical and mental health."
Food Active's Healthy Weight Declaration has been shown to have made a positive impact on policy at local authority level. Dozens of local authorities across the country have now adopted it.
Robin Ireland, research director at Food Active and the lead for this project, said: "Congratulations to Leicester City Council for taking this stand.
"We all know how difficult it is to make the right choices when we are surrounded by unhealthy food, the wrong advertising messages and when sugary drinks are cheaper than water. I am delighted that Leicester City Council is doing everything it can to help its residents, workers and pupils to eat more healthily.
"I hope other councils will follow this example".
For more details on the Declaration on Healthy Weight visit: http://www.foodactive.org.uk/projects/local-authority-declaration/
Find out about the health services we offer in Leicester, and information on making informed lifestyle choices to improve your health and wellbeing, at www.leicester.gov.uk/publichealth
ENDS