Guildhall event explores story of last man publicly hanged in Leicester
Published on Thursday, June 30, 2022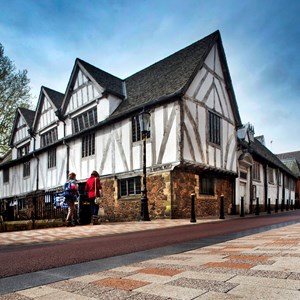 VISITORS to the historic Guildhall will be able to find out the fascinating story of the last man to be publicly hanged in Leicester nearly 170 years ago.
The true story of murderer William Brown – known as Peppermint Billy – is told in a newly-published book by local author Joanne Vigor-Mungovin, who will be at the Guildhall for a book signing, cheese and wine event, on July 25, from 5pm.
Peppermint Billy was executed on the gallows, after he was convicted of a gruesome double murder of a 70-year-old tollgate keeper and his nine-year-old grandson, at Thorpe Road in Melton Mowbray, in 1856.
Brown, from nearby Scalford, was the prime suspect for the crime, as a returned convict who had been previously sentenced to 10 years' transportation in Tasmania, and who had supposedly sworn vengeance against the person whose evidence had helped send him to the other side of the world.
The new book examines the troubled life of Peppermint Billy and the events leading to the double murder and his execution outside Leicester Prison, which reportedly drew a crowd of 25,000 people.
Author Joanne Vigor-Mungovin was born and raised in Leicestershire. Her first book, the bestselling "Joseph: The Life, Times and Places of the Elephant Man," tells the story of another legendary local figure Joseph Merrick, and his life and death in Victorian England.
Tickets cost £6 and are available online or from Leicester Guildhall on 0116 253 2569.
(Ends)