A CROWDFUNDING platform has been launched to enable people to get involved in a new piece of public art commemorating the 50th anniversary of Ugandan Asian migration to the city.
The project is inviting members of the public to make donations towards personalised engraved plaques which will form part of the landscaping surrounding a new sculpture which is due to take pride of place on Belgrave Circle.
The stunning artwork – entitled Sculptural Gateway – was funded by the city council, and is being installed at the end of August. It uses intertwining strands of colours and shapes forming a commemorative archway welcoming visitors to Belgrave.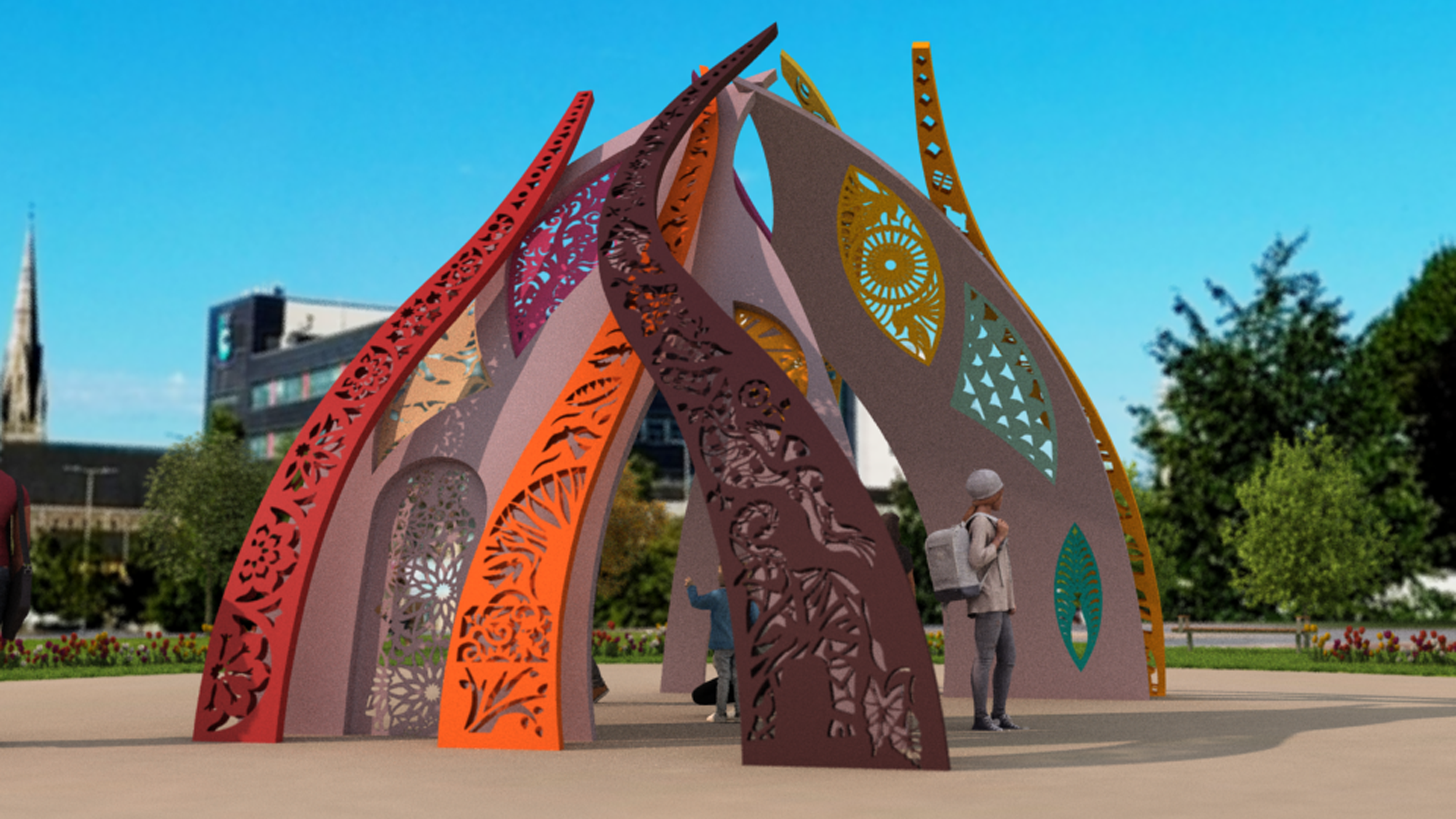 Sponsors can have their family name engraved in paving sets that will run along the sloped sides of the central path at Belgrave Circle.
Donors will be able to choose how much they want to give in return for different levels of sponsorship. All those who contribute will also be included in a commemorative book recording the artwork.
The donation platform is open now and will close on Sunday 3 December this year.
Announcing the scheme, City Mayor Peter Soulsby said: "This is a fantastic opportunity for people to get involved in what will be a permanent new piece of public art commemorating both the struggle faced by those fleeing Uganda in 1972, and the enormous diversity they have brought to the city's character and culture in the last 50 years.
"The sculpture will be set within wider landscaping on Belgrave Circle, and we are inviting people to get involved with this by sponsoring commemorative stone plaques.
"Leicester has a rich history of offering sanctuary to people fleeing persecution, and this whole project has developed in recognition of all those who find themselves in that desperate situation."
People can contribute at bronze, silver, gold or platinum level, or can simply make a donation of their choosing.
If the donation platform receives more funding than is required, the money raised would support ongoing engagement to develop a fitting legacy for the project. It would be done in consultation between Leicester City Council, local stakeholders and community members.
The sponsored landscaping will be completed once the donations platform has closed in December 2023. Some further landscaping work, such as bulb and tree planting, will be carried out based on the seasons.
Midlands-based artist Anuradha Patel was commissioned to design the sculpture marking the 50th anniversary of the arrival of thousands of Ugandan Asians fleeing the dictator Idi Amin.
The donation platform is on Leicester museums' website at: www.leicestermuseums.org/Uganda50ArtworkAppeal/