PLANS for a new skatepark near Abbey Park have now taken shape, thanks to the input of hundreds of skaters and other enthusiasts.
Leicester City Council has worked with leading UK skatepark specialists Maverick to develop designs for a planned new facility at St Margaret's Pastures sports grounds, off Abbey Lane.
The city council commissioned Maverick to lead the initial design and consultation process. This included feedback from over 570 respondents ranging from beginner to expert skaters, as well as BMX and scooter riders
New visuals have now been released giving a flavour of the features that people can now look forward to once the new skatepark is built.
These include a range of flat bank ramps, grind rails and ledges, a stair set, a wheelie or 'manny' pad and an impressive quarter pipe that will run the full length of one end of the skate park.
The specially laid surface of the new skatepark will also feature a bold, colourful design by Maverick.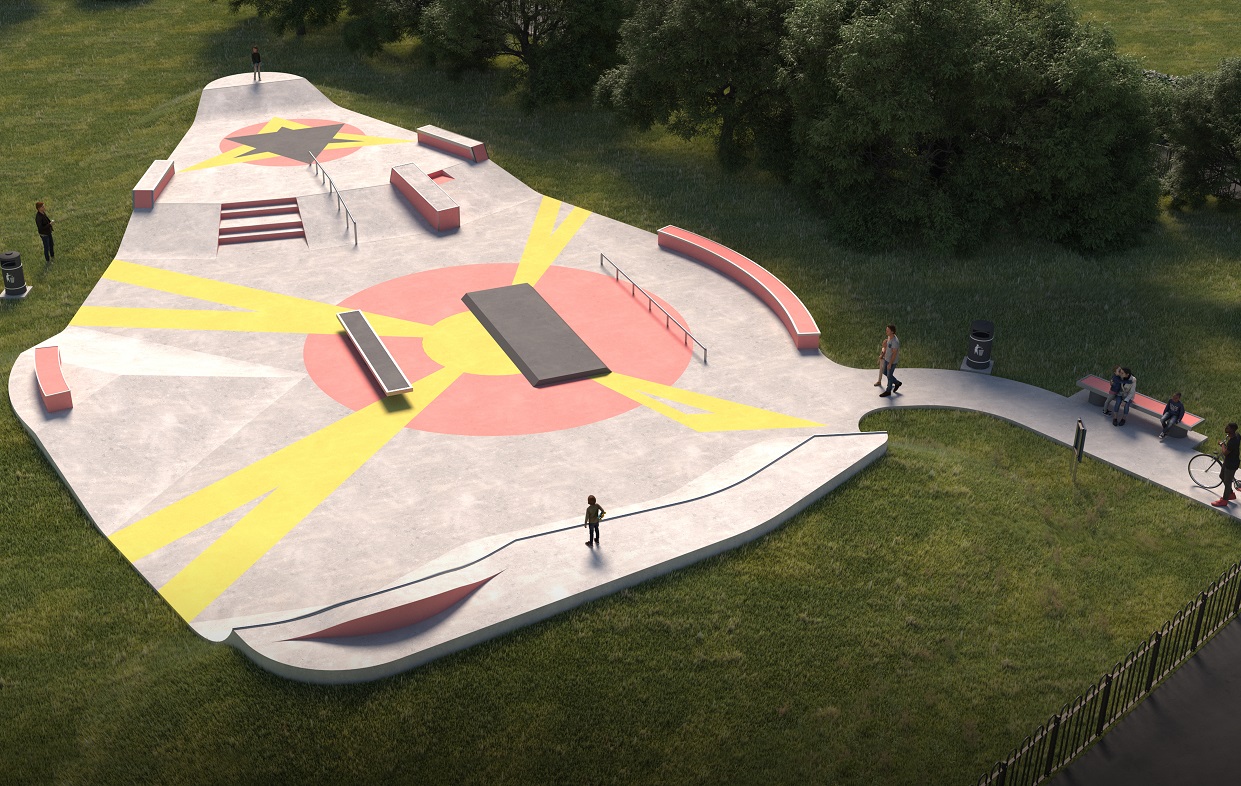 City Mayor Peter Soulsby said: "Maverick are experts in their field and have done a fantastic job of engaging with local enthusiasts – and those from further afield – to help make sure that we can deliver a skatepark that people will really want to use.
 "St Margaret's Pastures is already home to several well-used sports pitches and other facilities, and it makes sense to use this part of the site to expand the range of outdoor activities on offer. The designs that Maverick have developed are looking very impressive."
Sam Reynolds, director at Maverick, said:  "We're thrilled with the overwhelming response to our online survey for the new skatepark in Leicester. With over 570 responses, this is the biggest response we've seen anywhere in the UK.
"It's clear that there is a lot of excitement and passion for a new purpose built skatepark in the city, and we're committed to creating a space that everyone can enjoy."
Yusra Alageli, co-director of Skate Parlour Leicester and Mama Skates CIC, said: "We're so happy to see plans moving forward. Maverick Skates have been excellent in listening to the needs and wants of Leicester's skaters. It will truly be a welcome addition to the city's outdoor facilities, helping to diversify the sport and broadening access to skateboarding to communities near the city centre."
The new skatepark will be created on an area of council-owned land currently leased to Leicester Hockey Club, and next to their state-of-the-art Olympic standard pitch.
The site is easily accessible by foot, bike or skateboard and is near to car parking and toilets.
A planning application for the proposed new skatepark has also now been submitted.
If given the go-ahead, construction work could start next year and will take up to four months to complete.
The city council has already approved funding of £375,000 for the scheme under the city council's people and neighbourhoods policy provision.